'Truth is the 1st casualty of war': Syria's East Ghouta battleground distorted by MSM propaganda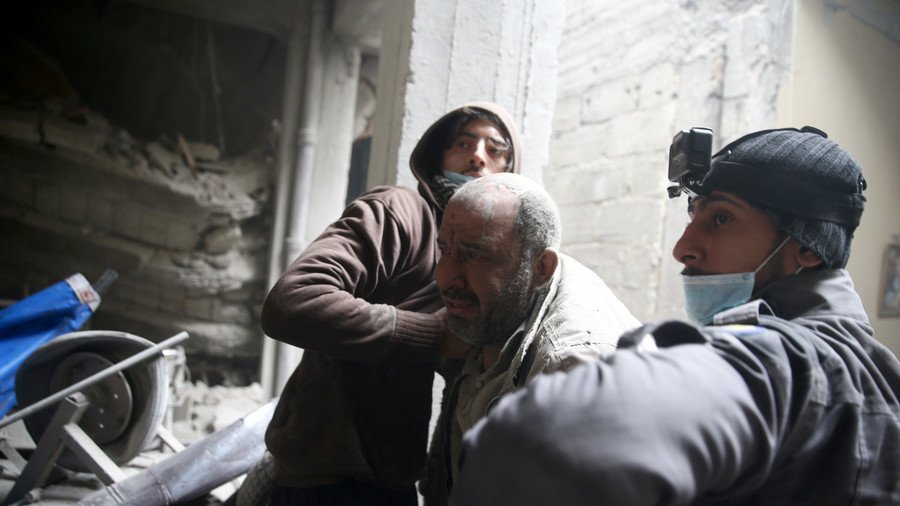 The information battle on the E. Ghouta front is turning into Aleppo 2.0, with Western media, often relying on dubious sources, describing – in unison – the Syrian regime atrocities while nearly glorifying terrorists' resistance.
Over the last few days, the mainstream media has simultaneously turned their attention to the ongoing military operation in eastern Ghouta, a militant-controlled suburb of Damascus, which is seeing a new wave of clashes between Syrian government forces and Islamist factions.
While the army aims to clear the area of such terrorist units as Jaysh al-Islam, Jabhat Fatah al-Sham (formerly known as Al-Nusra Front), Ahrar al-Sham, and Failaq al-Rahman, the Western media, often relying on militant-embedded sources, continues to paint an ominous picture, in which the government troops are deliberately slaughtering civilians.
For years now, Al-Qaeda terrorists in #EastGhouta, who have deliberately embedded themselves in civilian areas and denied humanitarian assistance to civilians there, have killed, through mortaring, untold numbers of civilians in Damascus, over a period of years now.

— Dr Marcus Papadopoulos (@DrMarcusP) February 21, 2018
"A naive viewer might imagine that Assad was just bombing civilians for the hell of it because the jihadi fighters are totally absent from the picture. And the pictures are literally provided by the jihadists themselves," Peter Ford, former UK ambassador to Syria and Bahrain, told RT, referring to the controversial White Helmets, who have long been hailed by the mainstream western media as heroes. However, the UK-backed NGO has been plagued by allegations of having close ties with terrorist groups.
Before the Syrian government forces intensified operations against jihadist factions in the area, Russia had been trying to broker a deal with armed groups to stop using civilians as human shields and surrender their weapons. Moscow has also been working to allow humanitarian aid in.
A piece published by The New York Times on Tuesday uses the Syrian Observatory for Human Rights (SOHR), a one-man "war monitor" based in the UK, as its source for the death toll. The article is verbose in its descriptions of "heart-rending images" from the scene, where Syrian President Bashar Assad's government had "loosed a devastating bombardment" against civilians that "have no other choice except resisting until the last moment." Little to no attention is being paid to the militant forces holed up in eastern Ghouta and their links to internationally-recognized terrorists like Al-Nusra.
The Guardian all-out accused Assad of war crimes and genocide, comparing what's going on in eastern Ghouta to the 1995 Srebrenica massacre – where 8,000 people were killed and up to 30,000 people displaced and abused.
Russia is being attacked for being an ally of Damascus, as well as for failing to enforce peace in eastern Ghouta – an area established as one of the de-escalation zones that Moscow took it upon itself to maintain, together with Turkey and Iran. The Russian Center for Reconciliation in Syria, meanwhile, has offered militants a chance to retreat, which they rejected, preferring to stay entrenched and launch provocative attacks while hiding behind civilian human shields.
Like in Aleppo in 2016, Russian efforts to achieve a peaceful solution are being largely ignored. Back then, special corridors were organized to evacuate civilians out of the city, before extending the offer to terrorists for a mass exodus. But mainstream coverage only saw the "humanitarian disaster," promptly blamed on Moscow because of Russia's involvement in the initial airstrikes against the fortified militant groups there. When militants and willing civilians finally began evacuating from Aleppo, it was reported as the "fall" of the city.
At front and center of the mainstream coverage of Aleppo was Bana Al-Abed, a seven-year-old girl supposedly tweeting from the besieged city on a daily basis. Her messages about the horrors of war, some in surprisingly articulate English, were brandished like banners whenever an outlet wanted to trigger an emotional response to the narrative about Assad and Russia's "war crimes."
Bana's innocent image is seen by many critics as a case of shameless exploitation by her parents, her father reportedly having links to the terrorist groups entrenched in Aleppo at the time.
A new face may have already been found for the eastern Ghouta coverage. This week, CNN used a 15-year-old, Muhammad Najem, and selfie videos he posted on social media, to base their report on the bloody atrocities allegedly committed by the government forces in Damascus suburbs. "The children of Ghouta die every day by the bombing of the Assad regime and Russia," Najem says in a segment featured on CNN.
The eastern Ghouta reporting seems to be falling into the Aleppo pattern in more ways than one.
"We have seen this kind of atrocity level pulled over and over again a few months ago, with Aleppo for example," Jim Jatras, political analyst, and media and government affairs specialist, told RT. "Every time the Al-Qaeda linked groups are on the ropes and the Syrian Army is on the verge of liberating territory, then we hear all these horror stories, some of which may have a basis in truth, some not, about how civilians are suffering but nothing on who the terrorists are who are controlling these areas and oppressing the people who live there."
"We saw this very much with Aleppo. We saw the same kind of coverage from the Western media. Atrocities were being predicted and reported and it turned out that most of those, if not all of them, were actually false propaganda claims. And we are seeing the repeat of this situation again," Charles Shoebridge, a security analyst and former UK Army officer, pointed out.
The fate of civilians in Raqqa and Mosul, as they were being "liberated" by the US-led coalition, didn't garner nearly as much attention.
"There was actually no coverage of the situation of Raqqa and Mosul. There were occasional articles," Shoebridge told RT. "The reason why these things are not being covered is because it is not conducive to supporting UK and US foreign policy which is, of course, still, even now, to destabilize and undermine the Assad government."
"The Western media are so closely linked to information or misinformation coming out of their governments that it is really misleading the public in the Western countries," Jim Jatras added.
Real images of destruction from Raqqa and Mosul were there for British and American media outlets to see. Yet most outlets stayed silent to the indiscriminate bombing of civilians in Syrian and Iraqi cities by the US-led Inherent Resolve coalition. No objection was voiced to the lack of civilian evacuation or the refusal to negotiate a ceasefire with the hardcore Islamists holding civilians as human shields.
"There were no calls... for a ceasefire to take place" during the British and the American led bombardment of Mosul and of Raqqa, Shoebridge noted. "The US bombardment and sieges of these areas were causing immense suffering and loss of life among civilian populations." Yet any remote calls to have a ceasefire so that civilians could leave the besieged cities were met with the response "no, this would help terrorists who are occupying that area," Shoebridge added.
The same selective anti-Assad coverage is continuing in eastern Ghouta, where the Western media continues to neglect the atrocities committed by the jihadists in the region.
"What the media failed to point out also is that the Islamic State is one of the groups which hold Yarmuk camp, which is one corner of Ghouta, and then you have an affiliate of Al-Qaeda which is holding another corner," former ambassador Ford points out. "So these are really bad guys. Exactly the guys that were wrinkled out of Mosul and Raqqa, with many civilian casualties in the process."
Think your friends would be interested? Share this story!
You can share this story on social media: