Mounting a car, smashing rear window: Russian cop detains hijacker (VIDEO)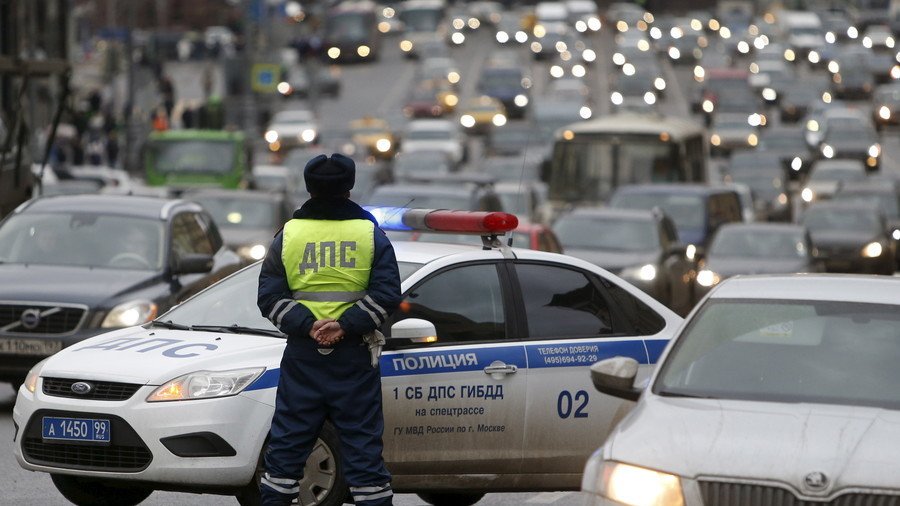 A Russian policeman was filmed mounting a hijacked car, and smashing in its rear window to gain access, in dashcam footage that resembles a blockbuster car chase.
The driver of the vehicle was pulled over by Lieutenant Maxim Mamaev in a town in Western Siberia for reportedly driving under the influence. When officer Mamaev made his way to the driver's side of the vehicle, the Renault sped off in the hopes of ditching the officers.
However, in the footage uploaded onto the regional traffic police department's Instagram page, officer Mamaev leaped onto the trunk of the moving car, and immediately began hitting its rear window with his pistol while the car continued to speed down a highway.
Meanwhile, Mamaev's partner, officer Igor Afonin, chased the runaway vehicle in his patrol car with sirens blaring while repeatedly asking the driver, via a loudspeaker, to stop.
READ MORE: Snowball patrol: Russian police pelt runaway car with snow during high-speed chase (VIDEO)
The short chase came to an abrupt end when officer Mamaev gained access to the inside of the vehicle through the smashed rear window, and brought the driver to a halt. It later transpired that the driver was drunk, and was also a thief, as the car had been hijacked from a pensioner. Officer Mamaev said his risky mount was "necessary to act to stop the drunk driver who could harm the surrounding people, including pedestrians."
Like this story? Share it with a friend!
You can share this story on social media: