Children in Siberia pour cold water on DiCaprio's climate change concerns (VIDEO)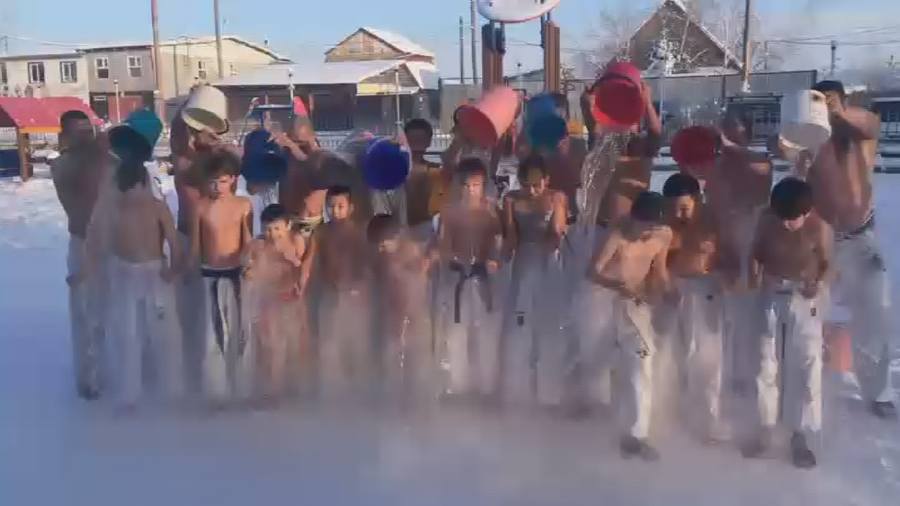 A group of children in Russia's northeastern Yakutia Republic have, literally, poured cold water over Leonardo DiCaprio's concerns that temperatures there have reached record lows.
The children, dressed in karate gear, delivered an 'ice cool' video message to the Hollywood actor and environmental activist as they stood topless on the snow-covered ground and threw buckets of freezing water over themselves.
"Hello Leo! Thank you for thinking of us. Don't worry, we are all good. The sun is even shining today. Come visit us, we'll pour cool water. Good luck!", one boy from Yakutsk declared to the camera.
The response was to DiCaprio's apparent concern over extremely cold weather in the region. Earlier the Leonardo DiCaprio Foundation noted on its Instagram page that temperatures in Oymyakon (Republic of Yakutia, also known as Sakha), known as the coldest inhabited place on Earth, had plummeted to -62℃ (-111.6°F), an extreme low that had not been recorded by locals in 15 years.
"Thermometers broke when temperatures reached near-record levels," the post said, citing a documentary called Oymyakon, by Dominik Bari, Felipe Paiva and Petr Vinokurov, as the source.
"Climate change is posing a real threat to local people's lives and life structures, changing the soils, the fauna and the flora," the foundation said.
However, according to the head of a local weather service, winters have become warmer in the region. "We have been observing [the effects of] climate change annually since the 1980s. It is becoming warmer every year," Alexander Arzhakov told the RIA Novosti news agency.
Temperatures of minus 60 degrees are not considered unusual for winters in the region. This year, the average temperature for February in Yakutia was four degrees higher than the norm, Arzhakov added.
READ MORE: Another Oscar awaits DiCaprio in Russia's Yakutia, made of fan-donated jewelry
DiCaprio appears to have quite the fanbase in Yakutia; this is his second invitation from locals to visit the region. In 2016 the actor was invited to collect a custom-made 'Oscar' crafted from donated jewelry by DiCaprio devotees in the area.
Think your friends would be interested? Share this story!
You can share this story on social media: