Anti-fascists clash with police as far-right demonstrators take to Italian streets (VIDEOS)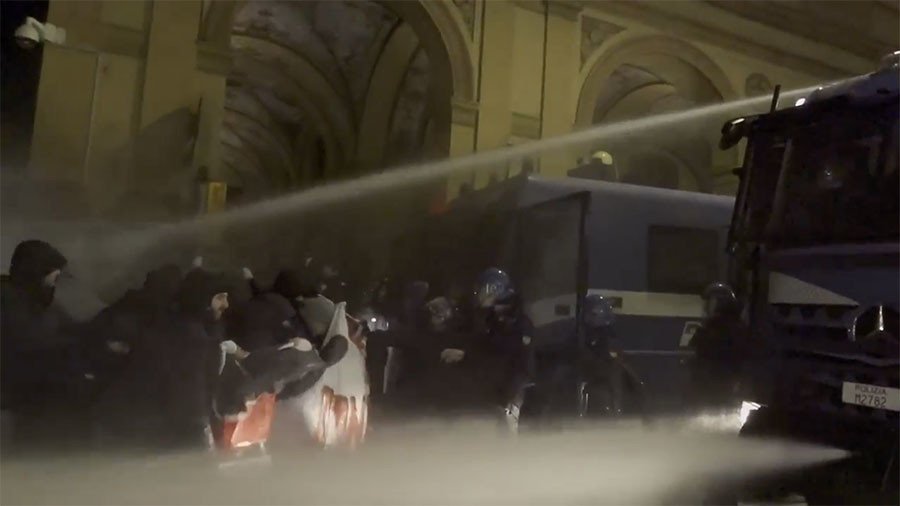 Italian far-right demonstrators were met with opposition from their anti-fascist counterparts in several Italian cities over the weekend amid heightened tensions in the run-up to national elections.
In the southern city of Naples two people required medical treatment, while 20 were arrested, when demonstrators protesting a rally by the neo-fascist CasaPound party clashed with police on Sunday.
Riot police can be seen charging the demonstrators, striking a number of them with batons as red flares illuminate the smoke-filled night. A number of demonstrators are seen in the video below being lined up against a fence and shop-front before being led away by police.
A larger group of demonstrators later regrouped outside police headquarters to protest the arrests reports La Repubblica. Meanwhile, further north in Venice protests were more subdued.
Around 1,000 anti-fascists protesters descended on the city, decrying the far-right group Forza Nuova. Organizers held banners reading "Venice is antifascist" as they marched through the Italian city, lighting flares and shouting anti-fascist chants.
One protester, Marco Baravalle told protesters, "Roberto Fiore (Forza Nuova leader) wasn't able to land in Venice's lagoon because it was blocked with a huge democratic demonstration."
Police reportedly moved the Forza Nuova rally to the other side of the city where 60 far-right supporters gathered flanked by police in riot gear. Italian cities had been on high alert since clashes between anti-fascists and the police broke out in the centre of Bologna on Friday.
Police used water cannon to disperse the crowd, seven people were reportedly injured while two were arrested.
Tensions have been high in Italy since a one-time failed candidate for the right-wing Northern League party, Luca Traini, allegedly shot six Africans, during an apparently racially-motivated attack in the central Italian city of Macerata.
Traini was arrested at the scene with an Italian tri-color flag draped around his shoulders. A pistol was also reportedly found in his vehicle and police seized a copy of Adolf Hitler's 'Mein Kampf' and other Nazi-related publications from his home.
The shootings came shortly after news that a Nigerian man had been arrested for the murder of an 18-year-old girl on the outskirts of the city.
READ MORE: Failed right-wing politician suspected in shooting of migrants in Italy


Think your friends would be interested? Share this story!
You can share this story on social media: