Cock up: Malaysian govt mocked for printing barking rooster in Year of the Dog ad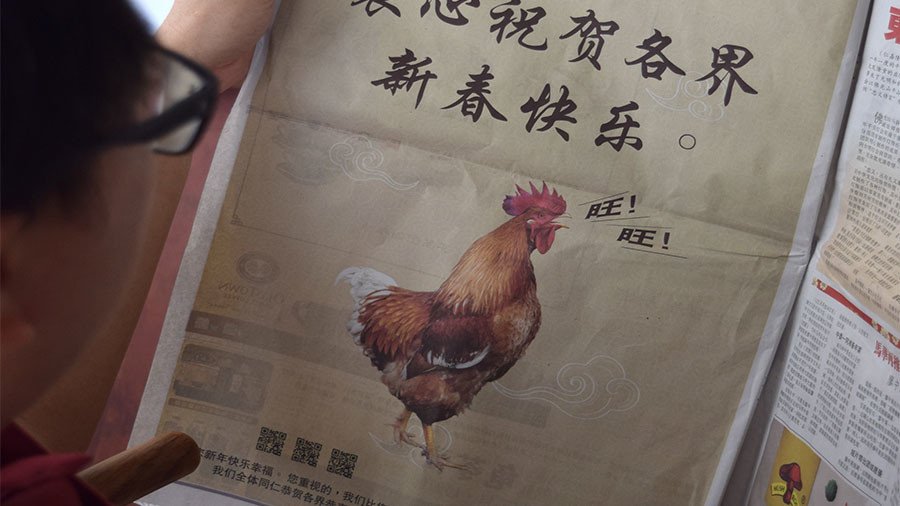 The Malaysian government was forced to apologize after putting a barking rooster in a newspaper ad celebrating the Chinese New Year. Many are interpreting the ad as an effort not to offend Muslims.
The Chinese zodiac proclaims that the Year of the Rooster has just made way for the Year of the Dog. The full-page ad appeared in Chinese language newspapers and was paid for by the trade ministry. It wished people a prosperous Year of the Dog, but showed a barking rooster.
The ad unleashed a flood of reaction online, with some mocking the government for the mix-up. However, many others thought it was a bungled attempt to avoid using a picture of a dog because the animal is considered unclean in Islam.
READ MORE: Going to the gym is a sign of being gay, says Malaysian newspaper
In the run-up to the New Years celebrations, Reuters reported that Malaysian businesses were downplaying canine symbols in order to avoid upsetting Muslims. Islam is the official religion of Malaysia, but around 20 percent of people are Buddhist and 10 percent are Christian.
Social media users labeled the ad a "national embarrassment," it also sparked numerous comments on radio shows and in newspaper articles.
Not sure if I wanna laugh or cry looking at a CNY ad by @KPDNKK depicting a rooster barking. It's sad how people thinks that seeing a printed dog will ruin your faith.

— Chee Ching (@cheeChingy) February 15, 2018
An excoriating article in Free Malaysia Today said that "only in Malaysia do absurdities like a Chinese New Year 'barking' rooster thrive."
"Our managers are poorly trained, probably give poor instructions, fail to accept responsibility, and reject any sense of accountability," columnist Mariam Mokhtar wrote.
The trade ministry blamed the ad on a "technical error."
"We deeply regret any inconvenience," spokesman Luqman Hakim Abd Malik said. However, he did not precisely explain how the technical error caused such a specific mix-up, or what the ad was supposed to look like originally.
Think your friends would be interested? Share this story!
You can share this story on social media: