Iranian FM calls Netanyahu's drone stunt 'cartoonish circus,' says Israel 'not invincible'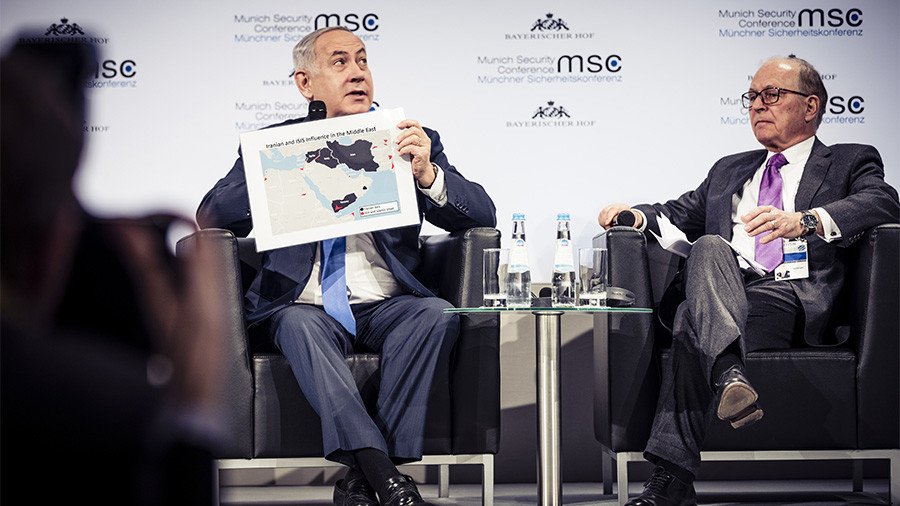 Iran's foreign minister ridiculed a security conference speech by Netanyahu, who used a part of a drone to make a point. He lashed out at Israel's "aggression to neighbors" and mentioned the country's "crumbling invincibility."
Iranian Foreign Minister Javad Zarif spoke at the Munich Security Conference a few hours after Israeli Prime Minister Benjamin Netanyahu displayed what he said was a piece of an Iranian drone shot down last week by Israeli forces. The Iranian official dismissed the use of the prop as a "cartoonish circus" that was meant "to blame others for its own strategic blunders, or maybe to evade the domestic crisis they're facing."
He added that Israel was avoiding discussion of its own hostile and destructive policies in the Middle East.
"Israel uses aggression as a policy against its neighbors," Zarif said, citing the regular air incursions into Syria and Lebanon. "The entire speech [by Netanyahu] was trying to evade the issue."
Zarif also said that the loss of a fighter jet by Israel during the latest flare-up on the Syrian border tarnished the image of invincibility the Israeli military has.
Earlier on Sunday, Netanyahu called Iran the biggest threat in the world, and taunted Zarif while holding the aircraft fragment.
Think your friends would be interested? Share this story!
You can share this story on social media: