Revelers torch 30m-high wicker 'Gothic cathedral' as part of folk celebration (VIDEO)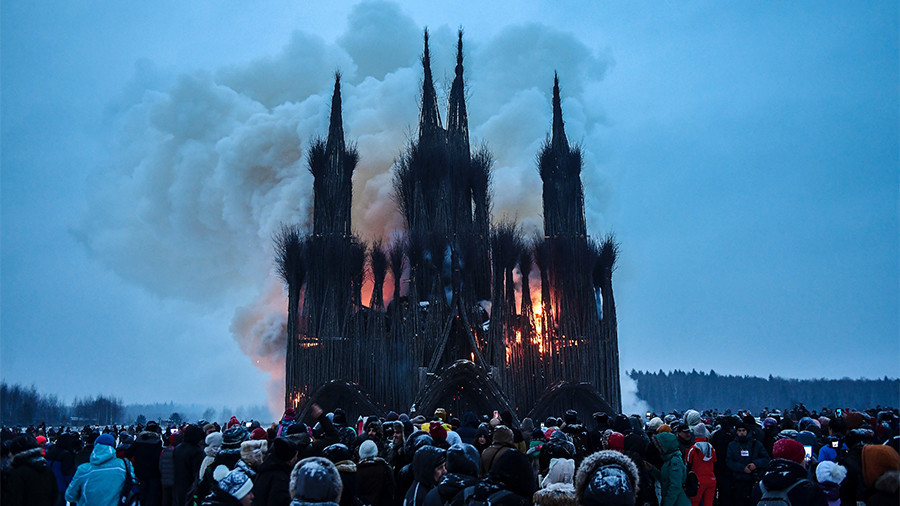 The celebration of Maslenitsa, a traditional Russian folk festival, reached epic proportions when the usual effigy of winter was replaced by a massive wicker gothic structure as the centerpiece of the celebration.
Maslenitsa is a formerly pagan festival meant to hasten the arrival of spring, which was reinvented through the influence of the Russian Orthodox Church as a final chance to rejoice before the 40 days of Lent.
Nowadays, it is largely a winter folk festival for people who want to dance, eat pancakes, maybe wrestle a little, or climb a greased pole to show off. It typically ends with the burning of an effigy of winter.
The Saturday celebrations in the village of Nikola-Lenivets in Kaluga Region, however, took Maslenitsa to an entirely new level. Instead of an effigy, the centerpiece for the burning was a massive wicker gothic "cathedral" made from alder, complete with four towers with spires reaching as high as 30 meters.
The structure reportedly took 20 builders and three months to complete.
Some public figures in Russia were not happy with the fire show, saying it conveyed an anti-Catholic message. "I don't understand why somebody would burn down a 30-meter Catholic church instead of a harmless effigy on a folk-Orthodox festival?" TV personality Maksim Galkin said on his Instagram page. Some clerics in the Russian Orthodox Church said the performance should be probed as an anti-Christian incitement.
Nikolay Polissky, the artist behind the project, earlier said his intention was to give a literal meaning to the architectural term "flamboyant" used to describe the late Gothic style. "The structure we have built is not a gothic cathedral but a great pyre resembling a cathedral in shape," he said in an interview with The Village website. "I hope when we set it on fire we will see a church made of fire, seemingly made not by human hands, floating and dazzling. As an artist I expect to see a glimpse of flamboyant architecture, not some game of spirituality using wicker and matches."