Baikal babushka: Siberian granny skates to work across world's deepest lake (VIDEO)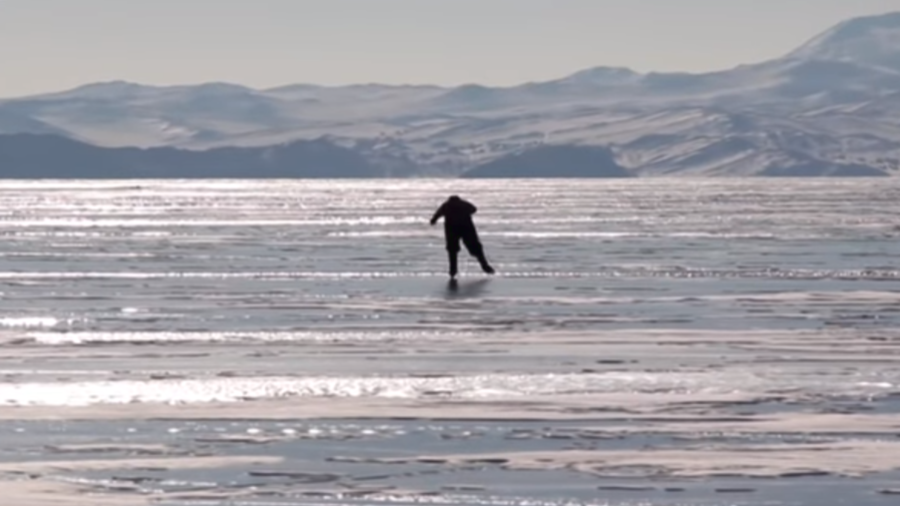 Next time you complain about your morning commute, think of this 76-year-old Siberian woman who skates across the world's deepest lake, wearing a pair of skates from 1943, in order to take care of her cows.
When Lake Baikal freezes during the winter, Lyubov Morekhodova's cows ramble across the frozen ice sheet and the hardy farmer has to don her trusty old skates to make sure they are okay.
The skates were made by her father and they strap on to a pair of traditional Russian Valenki boots, which keep the grandmother's feet warm. Morekhodova became an internet sensation when her friend posted a video of her on Instagram, and she has since attracted attention from Russian TV networks.
READ MORE: Walk on water: Video captures skaters ice-dancing on world's largest lake
The fearless septuagenarian skates over large cracks in the lake, completely unperturbed by any threat that the ice may give way.
"I've always been going long distances on skates," she told the Siberian Times. "I started skating when I was seven."
"I don't like modern skates, they wobble around my ankle and feet get cold. Valenki are always warm."
The grandmother has lived alone on the shores of the lake since her husband died in 2011. She gets up at 5:30am every day to feed her cows and light her stove.
"We live a happy life here, me and my animals. In summer I get to see all my relatives, and in winters I am way too busy to get bored."
Like this story? Share it with a friend!