Walk on water: Video captures skaters ice-dancing on world's largest lake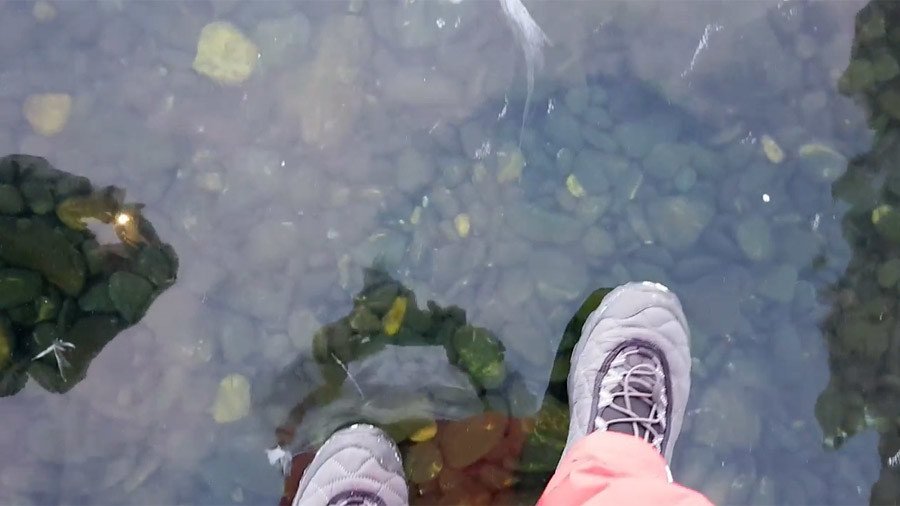 Skaters have captured video footage of their daring dance on the frozen surface of Lake Baikal - and the world's deepest lake is so perfectly clear you can see stones lining its floor near the shore.
The enormous lake in Siberia contains more water than all of the North American Great Lakes combined. It also holds a whopping 23 percent of the all the fresh surface water in the world.
READ MORE: Mysterious satellite plummets to Earth in fireball (PHOTOS)
Formed as an ancient rift valley and with an age of around 25-30 million years, the lake is considered the oldest in the world.
The water in the ancient lake is also considered among the world's clearest. That stunning transparency is captured in the fascinating footage which shows the skaters gracefully gliding along as if dancing on perfectly still water.
The incredible water clarity is emphasised when the lens spots smooth stones and pebbles under foot, resting on the lake's floor.
The footage shows someone gingerly walking on the surface of the vast lake, but our cameraperson skates over large cracks in the lake, seemingly unperturbed by any threat that the ice may give way.
The lake was declared a world heritage site in 1996. The region around it is home to thousands of species of plants and animals, many of which exist nowhere else in the world.
Think your friends would be interested? Share this story!
You can share this story on social media: