Ukrainian radicals storm Russian cultural center in Kiev, burn Russian flag (PHOTOS)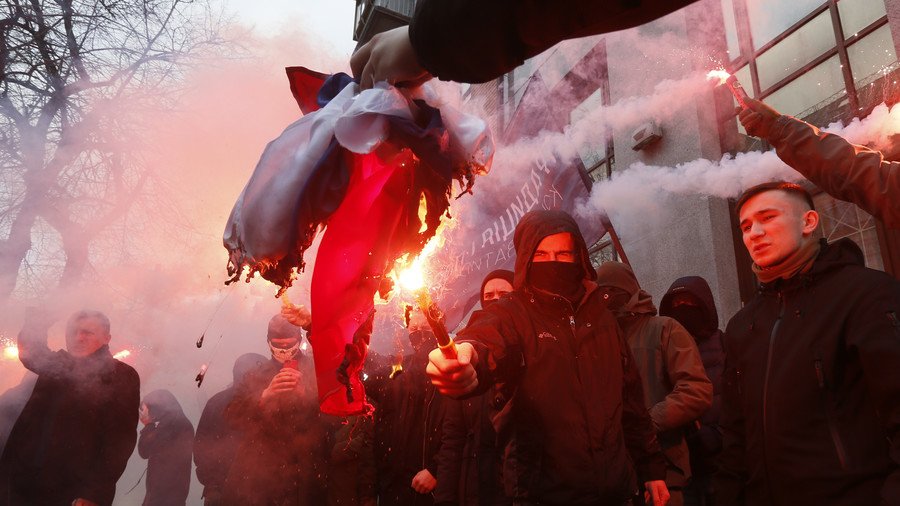 Ukrainian right-wing extremists have burst into the building of the Russian international cultural agency in Kiev. The radicals burnt a Russian flag and wreaked havoc in the facility at a time when "children were there."
The intruders also vandalized an exhibition dedicated to the famous Russian opera singer, Feodor Chaliapin, Rossotrudnichestvo – the cultural agency in question – said in a statement. It also added that the incident happened when "more than 60 children" were present inside the building.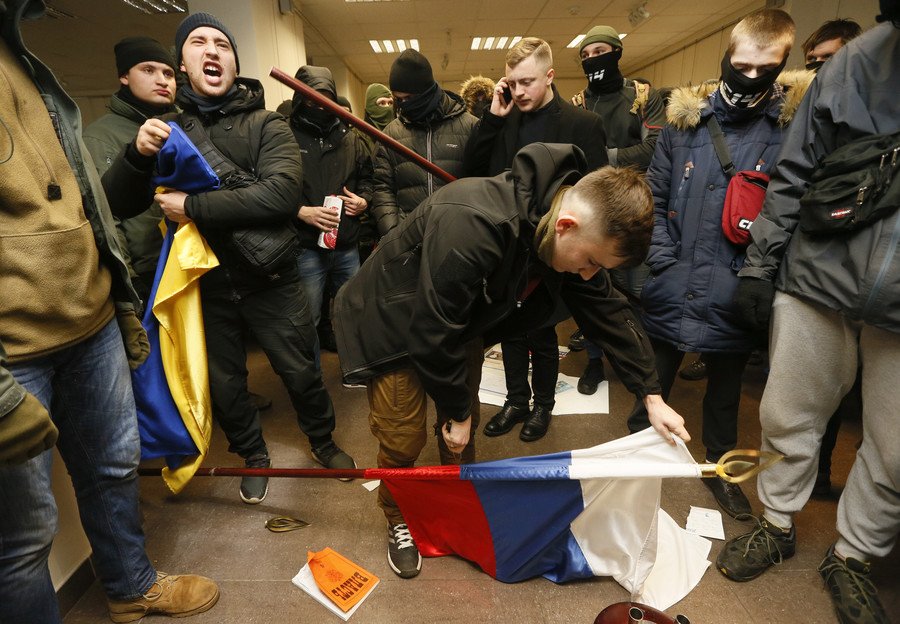 Several dozen ultranationalists stormed the gates of the facility and made their way into the building, a video posted by the radicals on Facebook shows. Members of the neo-Nazi C14 and Pravy Sector (the Right Sector) groups took part in the action, the radicals said.
The radicals took a flag from the facility and trampled on it before taking the banner to the street and burning it, another video and photos posted by the C14 group show. They also spray-painted slogans such as "Death to Russia!" and "Get out!" on the walls inside the building.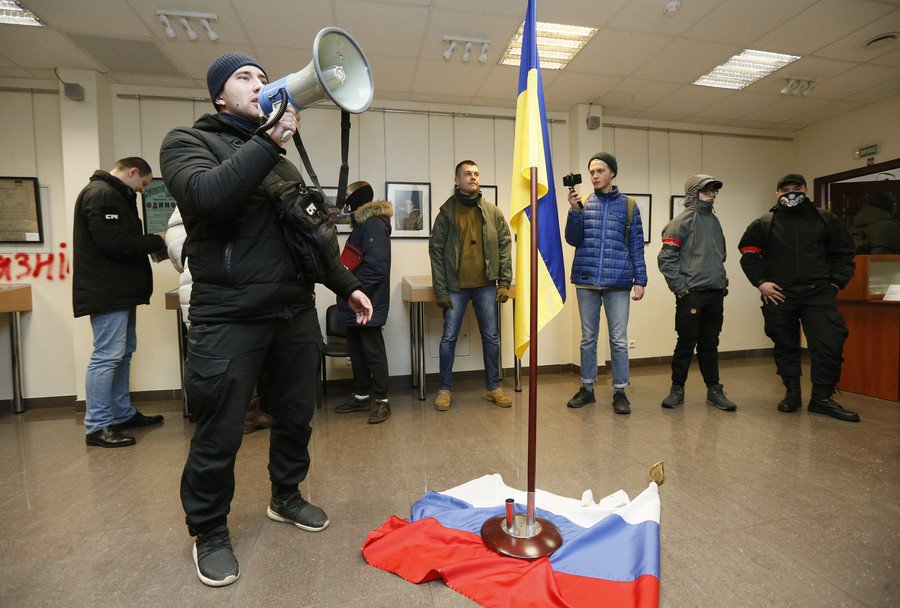 The Rossotrudnichestvo officials immediately filed a complaint with the police. However, the officers that eventually arrived at the scene found "no material damage" resulting from the actions of the radicals, the Interfax news agency reports, adding that no one was detained following the act of vandalism.
The Russian officials also demanded that Kiev authorities ensure the center's security in accordance with the bilateral agreement signed by Russia and Ukraine back in 1998. In the meantime, the Russian Senator Konstantin Kosachev said that the Kiev government is particularly to blame for the incident.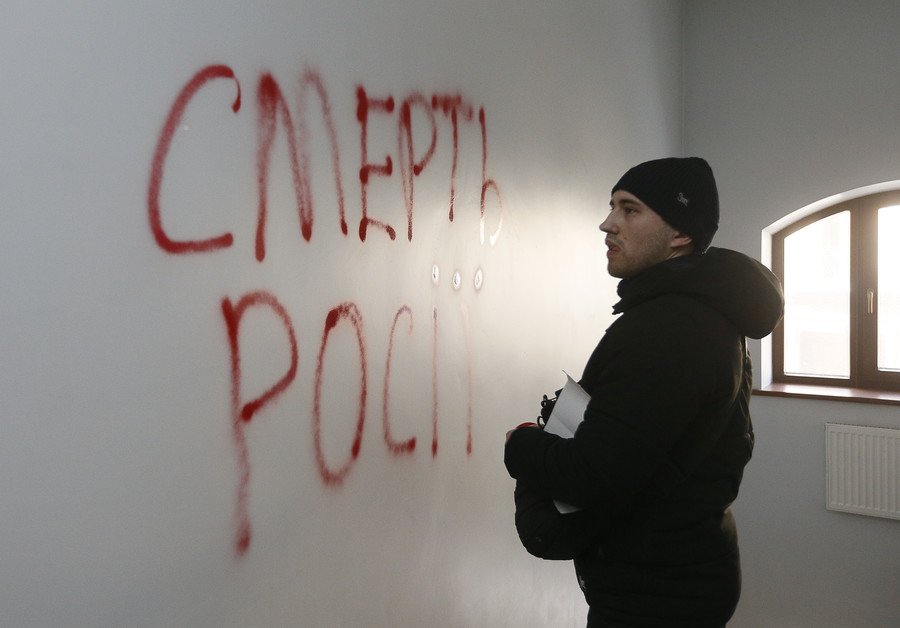 "It is Kiev that bears prime responsibility for this stunt," the head of the Russian Senate's International Affairs Committee said in a Facebook post. "It is the atmosphere of hysteria around the non-existent Russian aggression created by [the Ukrainian government] that encourages these thugs, who perform their "feats" not only with impunity but also with covert encouragement," he added.
The incident came just a day after another group of C14 radicals vandalized a monument to the Soviet soldiers, who fought against the Nazis in the WWII. The extremists destroyed the inscription, which said: "To those who defeated Nazism."
The C14 was founded back in 2010 and has close ties to the nationalist 'Svoboda' ('Freedom') Party. A US-based Terrorism Research & Analysis Consortium (TRAC) has designated it as a paramilitary group that embraces an ideology of "racism" as well as "urban terrorism."
It is not the first time the Ukrainian radicals attack the office of the Rossotrudnichestvo in Kiev. In April 2017, dozens of radicals blocked the entrance to the building of the Russian cultural institution to prevent the locals from attending a public Russian-language dictation that it was hosting. At that time, the agency had to cancel the event.
The Ukrainian authorities also seem to be biased against the agency. In August 2017, a summer trip to Moscow and St. Petersburg by a group of schoolchildren from Kiev, organized by the Rossotrudnichestvo, prompted the Ukrainian Education Ministry and the Security Service (SBU) to launch a probe into the matter.
If you like this story, share it with a friend!
You can share this story on social media: