'Cyborg artist' with antenna in skull urges governments to accept half-robots as citizens (VIDEO)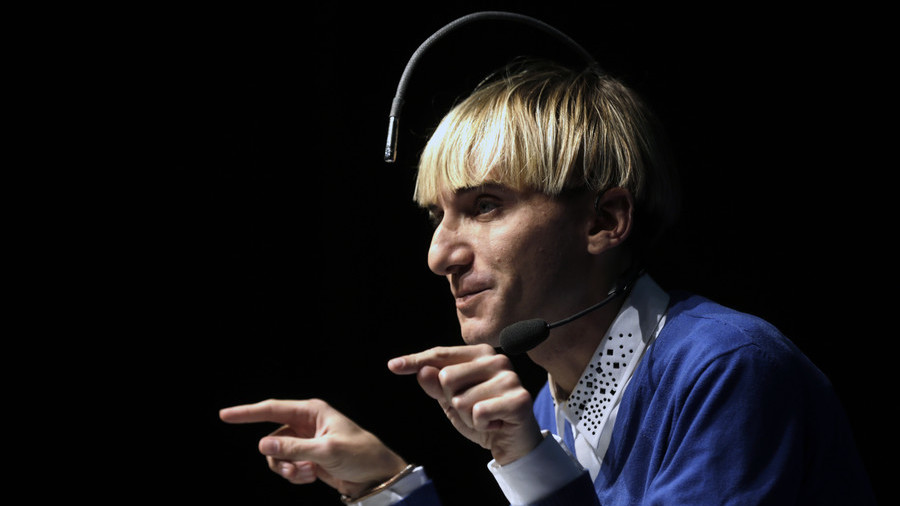 A man who calls himself a "cyborg artist," with an antenna dangling over his forehead, says the number of half-robots will only rise and governments should start recognizing them.
British-born and Catalan-raised Neil Harbisson has an unusual implant – a special antenna attached to his head that has helped him cope with innate achromatopsia, commonly known as color blindness. The device helps people feel and hear colors as audible vibrations inside his head.
Harbisson says this "organ" with an internet connection helps him to see beyond the visual spectrum and even colors from space.
"I have an antenna that is implanted inside my head, which allows me to extend my perception of reality beyond the visual spectrum. I can sense infrared and ultraviolet, and I also have Internet connection in my head that allows me to receive colors from other parts of the world, or connect to satellite so I can send colors from space," he told UAE state-run news agency WAM at the World Government Summit in Dubai on Tuesday.
Harbisson believes that there will be more "cybernetic people," or cyborgs, in the future with organic and robotic body parts. Governments should start to "slowly accept these changes" as their citizens will be part-technology and part-human, he said.
READ MORE: World's 1st robot citizen wants her own family, career & AI 'superpowers'
The 33-year-old acquired the self-developed head implant in 2004. He is considered the first officially recognized cyborg, as he has a passport photo with the electronic device, following a row over the document with the authorities.
The device did not cure the rare disease and the artist still sees things in greyscale. Harbisson says he can hear colors and brings the sounds, music or voices into color in his art works.