Tehran military displays, rallies mark Islamic Revolution anniversary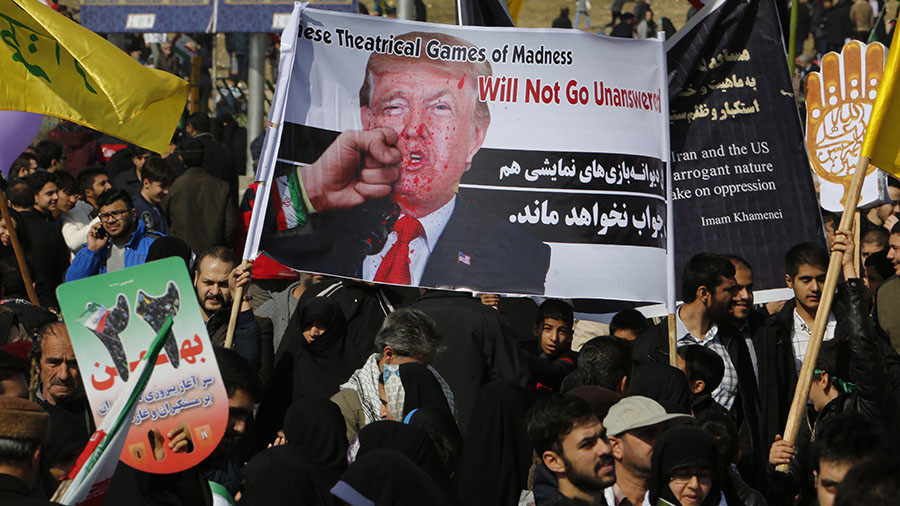 Iran is celebrating the anniversary of the 1979 Islamic Revolution on Sunday, just weeks after deadly anti-government protests rocked the country. The leadership called for national unity in the face of foreign threats.
The public uprising which ousted US-backed dictator Shah Mohammad Reza Pahlavi took place on Bahman 22 of the Persian calendar, which can fall on February 10 or 11 of the Gregorian calendar. Hundreds of thousands of people took part in rallies celebrating the 39th anniversary of the event.
Addressing the crowds in Tehran's Azadi Square, President Hassan Rouhani called for national unity and resolution of differences between Iranians.
"When the Revolution took place, we pushed some off the revolutionary train that we should have not," he said, apparently referring to liberals sidelined by the religious conservatives who fuelled the revolution. "Today, we have to let them board the train again."
Rouhani, a reformist president, is serving his second term, having won both elections on a promise of closer economic ties with foreign nations leading to improved standards of living. His government led Tehran to negotiate the 2005 nuclear deal with leading world powers, which lifted anti-Iranian sanctions in exchange for subjecting the country's nuclear program to close international scrutiny and significant restrictions.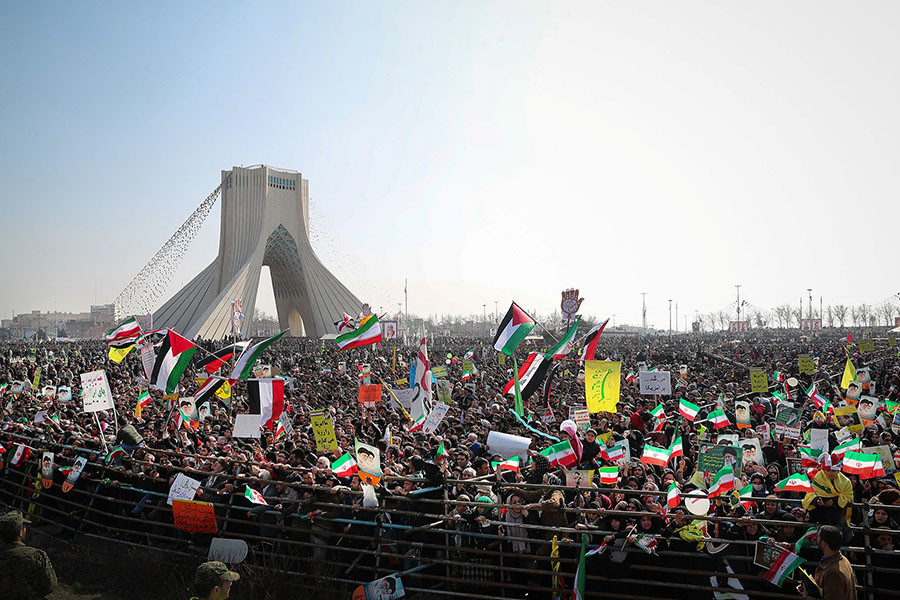 The economic resurgence however failed to materialize, and in early January many cities and towns across Iran were gripped by mass protests, which were initially motivated by economic hardship but quickly escalated into anti-government demands and occasionally led to rioting. At least 25 people were reported killed amid the clashes.
National security was the other major issue for Iran's leadership, with Foreign Minister Mohammad Javad Zarif using the occasion to state that Tehran has only its people to rely on to defend itself. Unlike some other regional nations, he said, Iran does not buy its weapons from foreign powers and counts on the ingenuity and resolution of Iranians to defend itself.
Some of those weapons were proudly displayed in the streets of Tehran on Sunday, according to the FARS news agency. These included the Qars intermediate-range ballistic missile, which has a range of 2,000km and is one of several Iranian weapons capable of targeting Israel.
Another center-piece on display was a model of Iran's new attack submarine of the Fateh class. Launched in 2013, it is to be followed by a second craft currently under construction.
The celebration in Iran comes a day after a major flare-up in Syria, triggered by the reported interception of an Iranian drone crossing into Israel's airspace. The IDF launched a retaliatory strike at a Syrian base, from which, Israel said, the drone was controlled. One of the Israeli F-16s used in the raid was shot down by Syrian anti-aircraft fire, marking a rare loss of a major military asset for Israel.
You can share this story on social media: