Netanyahu pays rare visit to Golan Heights, warns Israel's enemies against 'testing' its resolve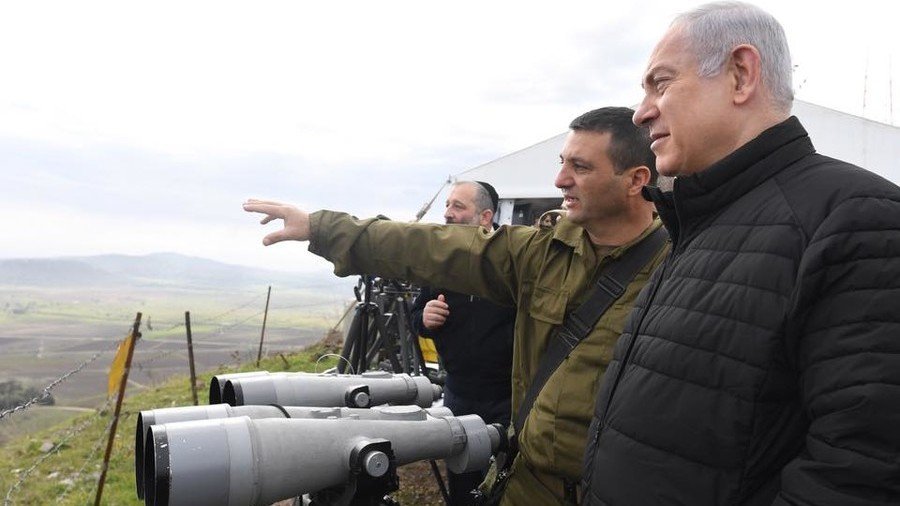 Israeli Prime Minister Benjamin Netanyahu and top security officials have toured the occupied Syrian Golan Heights, warning the enemies of Israel against "testing" the country's resolve.
On his tour of the Israeli-occupied territories on Tuesday, Netanyahu said Israel has the means to fend off any of its "enemies." The prime minister also praised the efforts of the Israeli Defense Force (IDF) stationed in the occupied territories for their efforts in protecting Israel's "borders."
"We seek peace but are prepared for any scenario and I wouldn't suggest to anyone that they test us," Netanyahu said. "I'm impressed with the immense efforts of the IDF here to protect both our borders and our country."
The top Israeli officials visited a military observation point, located some three kilometers from the 1974 ceasefire line, and peeked across it into Syrian territory.
היום עם הקבינט, הרמטכ״ל ומפקדי הגזרה, בסקירה ביטחונית ברמת הגולן. אנחנו ערוכים לכל תרחיש ואני לא מציע לאיש לנסות אותנו. (צילום: קובי גדעון, לע״מ) pic.twitter.com/ue3sZTNJ73

— Benjamin Netanyahu (@netanyahu) February 6, 2018
The Golan Heights region, which is part of the Syrian governorate of Quneitra, has been under Israeli occupation since 1967. Tel Aviv announced its annexation of the territories in 1981. The decision was condemned by the UN.
READ MORE: Netanyahu & Putin to discuss better coordination on Syria & Iran in Moscow
During the ongoing conflict in Syria, territories adjacent to the occupied Golan Heights have been predominantly controlled by militants opposing the Syrian government. The Israeli military, however, has also repeatedly shelled the positions of the Syrian Army, citing "stray shells" coming from Syria into the occupied territories as a pretext.
Think your friends would be interested? Share this story!
You can share this story on social media: