Meeting of 'Kim Jong-un and Donald Trump' bemuses locals on streets of Seoul (VIDEO)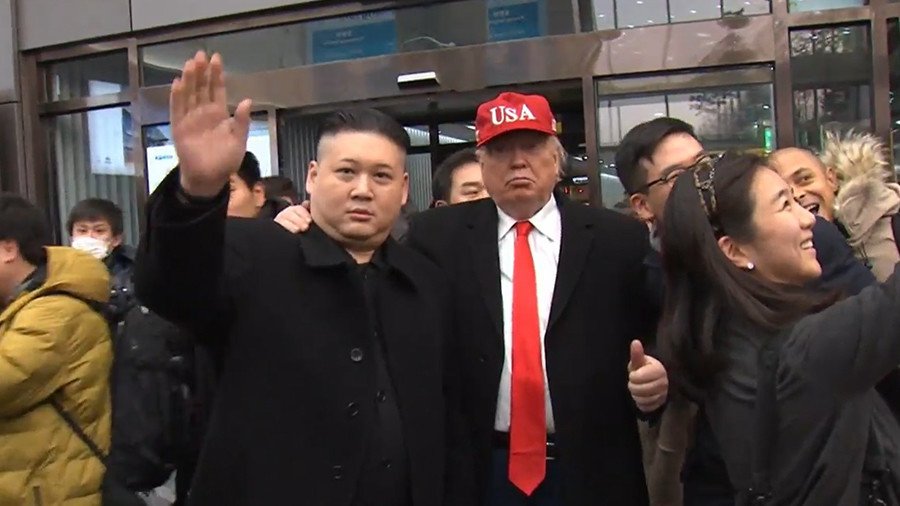 Despite threatening to bomb each other off the face of the earth, North Korean ruler Kim Jong-un and US President Donald Trump appeared to be hanging out with each other in downtown Seoul on Friday.
Of course it wasn't the actual, larger-than-life leaders, rather it was a pair of impersonators who caused quite a stir amongst locals and tourists in the South Korean.
The men exchanged the occasional frosty glance but were mostly far more cordial than one might expect. Numerous people posed for selfies and snapped pictures with the actors.
Trump's volcanic exchanges with Kim have been one of the defining aspects of his presidency to date. The president has repeatedly threatened to bomb North Korea and derisively refers to Kim as "Little Rocket Man."
Perhaps the most alarming exchange came in August when Trump said North Korea "will be met with fire, fury, and, frankly, power, the likes of which the world has never seen."
READ MORE: Who said it: Donald Trump or Kim Jong-un? (QUIZ)
Meanwhile, relations between South Korea and North Korea have shown promising signs of improvement in recent days. In a handwritten invitation, Kim invited South Korea President Moon Jae-in to Pyongyang. It would be the first summit in more than a decade between Korean leaders.
The invitation was hand delivered on Saturday by Kim's sister, Kim Yo-jong, who is visiting the country for the Winter Olympics, as part of the most senior delegation from the North to visit the South since the Korean War in the 1950s.
Like this story? Share it with a friend!
You can share this story on social media: