Blacker than black: Darkest building in the world unveiled in S. Korea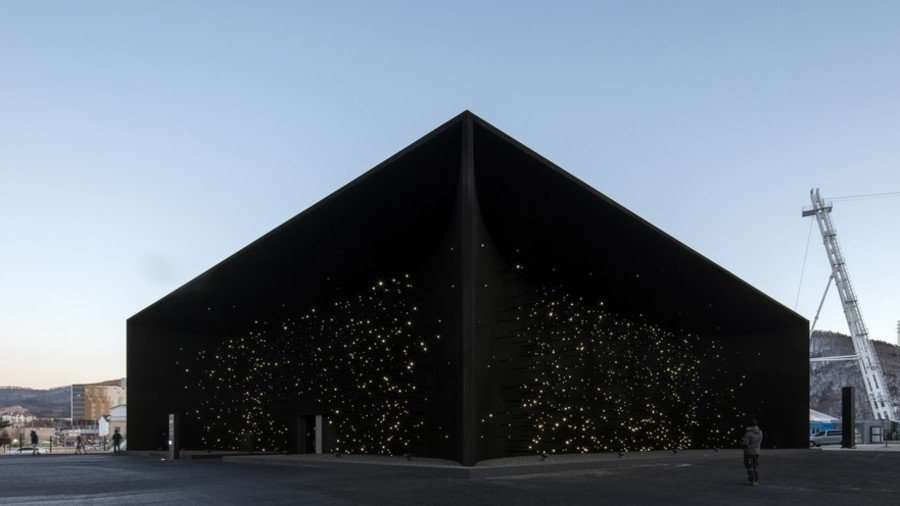 A ground-breaking building designed for the Winter Olympics is so dark it looks like a slice of Space. The Hyundai Pavilion in PyeongChang is the blackest building ever, thanks to high-tech paint that plays tricks on the eyes.
Designed by architect Asif Khan, the structure has been spray-painted with the blackest black matt paint ever. 'Vantablack VBx 2' is the spray-paint version of Vantablack, the blackest possible pigment. It absorbs an incredible 99 percent of light, making it look like no other black.
READ MORE: Kim Jong-un's sister arrives in South Korea in historic visit (VIDEO)
The result is a building that looks like an otherworldly black hole. The walls no longer appear three dimensional, and tiny lights on the building are suggestive of stars against the backdrop of deep darkness.
"From a distance, the structure has the appearance of a window looking into the depths of outer space," Khan said, ArchDaily reports. "As you approach it, this impression grows to fill your entire field of view. So on entering the building, it feels as though you are being absorbed into a cloud of blackness."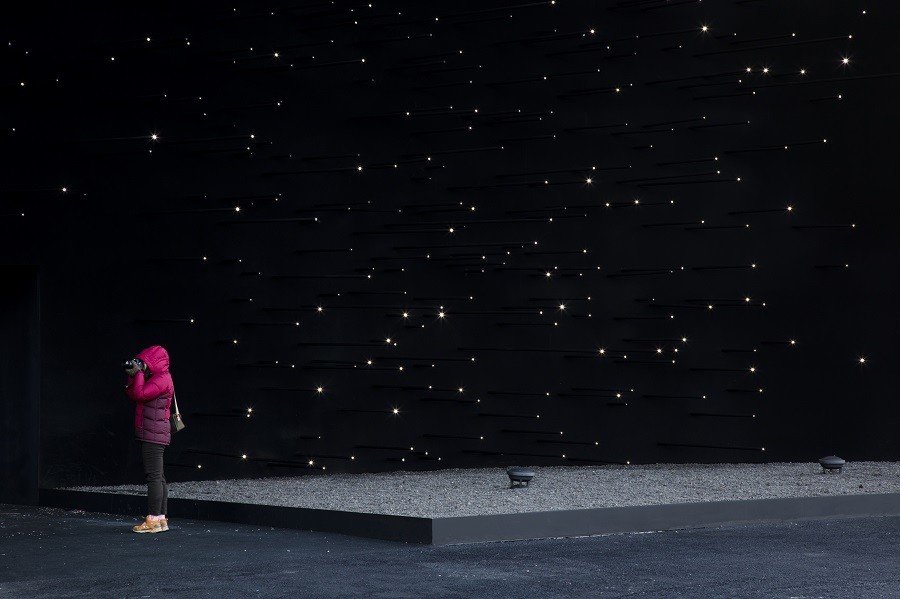 The building's interior is in sharp contrast to its deep dark outside. Everything is a glossy white and is one big water installation. Haptic sensors allow visitors to change the way the water flows.
The Pavilion's water and starry sky effect is a reference to Hyundai's hydrogen fuel-cell vehicle. "In the project, I wanted to move from the scale of the cosmos to the scale of water droplets in a few steps. The droplets contain the same hydrogen from the beginning of the universe as the stars," Khan explained.
Vantablack paint was originally invented for use in space and defense, to reduce atmospheric distortion in telescopes and to cut out stray light refraction from polished lenses.
It is made using millions of carbon nanotubes, which are about 3,500 times thinner than a strand of human hair, and between 14 and 50 microns long. A micron is 0.001 millimeters. Light gets caught in the nanotubes, and eventually dissipates as heat. The spray-paint version was invented by Surrey NanoSystems, but the VBx paints don't use nanotubes at all.
You can share this story on social media: