We need your vote! Support #1917LIVE in Shorty Awards 2018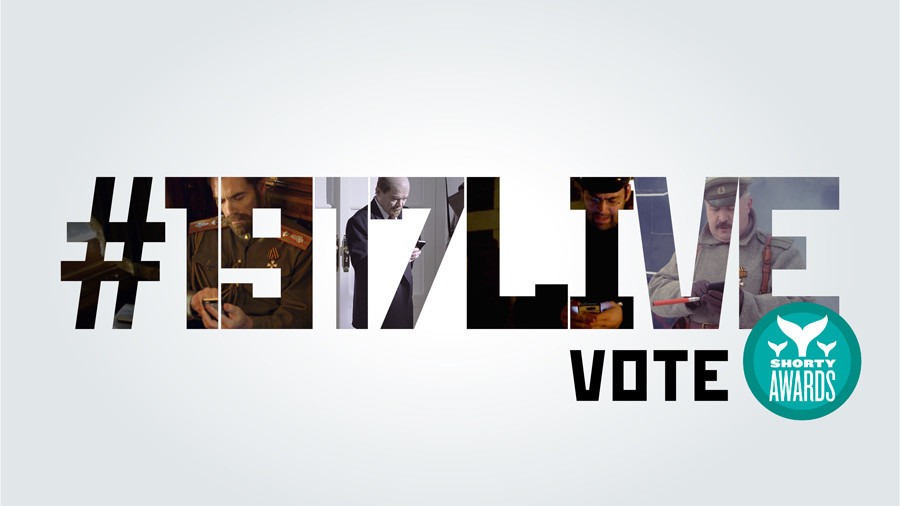 RT's historical re-enactment on Twitter dedicated to the Russian Revolution is back in the spotlight, competing in the 10th annual Shorty Awards to be held in April 2018. You can help #1917LIVE win by casting your vote online.
Vote for #1917LIVE project HERE.
Vote for Mata Hari Tweets by Paulo Coelho HERE.
Vote for Revolution in 360 HERE.
The project has already scored numerous awards, including in "one of the most competitive and prestigious" categories of the Shorty Awards – 'Best in Education' in 2017. Launched #1917LIVE in late 2016, RT asked a question: 'What if Twitter existed 100 years ago?' when the Russian Revolution shook the world and changed the course of history both domestically and internationally.
One of the largest-ever historical reenactments on the platform was based on thorough research and involved about a hundred Twitter accounts set up as key historical characters of the time – from the last Russian tsar, Nicholas II, and revolutionary leader Vladimir Lenin to common workers and soldiers.
The Twitter-based inclusive project invited anyone to take part by adopting a historical avatar and tweeting on that character's behalf. It was designed to span 2017, reviving the turbulent days of 1917 through original voices including those of Lenin and Nicholas II, the project lives on in 2018 thanks to the user community.
READ MORE: #1917LIVE: Twitter community won't let go, creates #1918LIVE to keep project going
Along the way, some prominent authors and historians joined the 250,000 cross-platform users, including writers Paulo Coelho and Helen Rappaport.
Meanwhile, the team responsible for the idea is working on another historical project set to launch later in 2018, which is dedicated to the private lives of the last reigning Romanovs.
READ MORE: #Romanovs100: RT tells royal family's story in new online photo-project
You can share this story on social media: