Mutant crayfish invading the world originates from 1 single female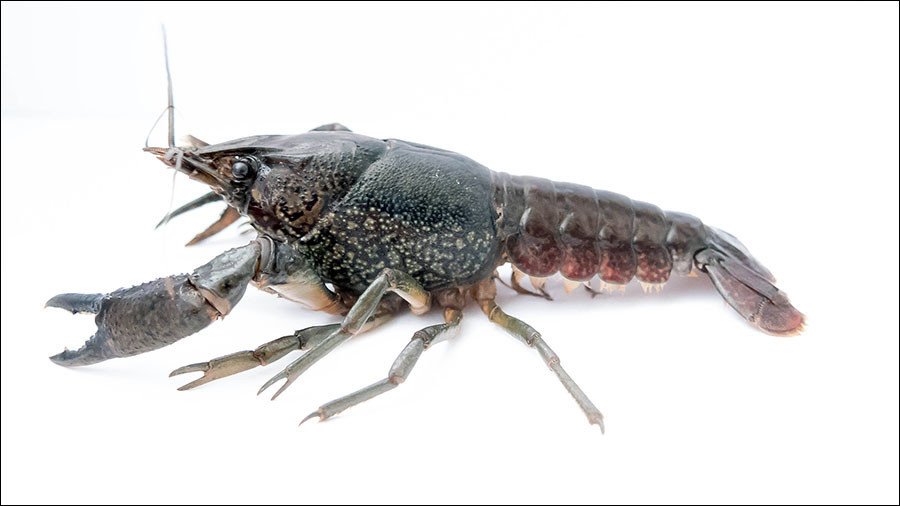 An all-female species of crayfish which evolved at a German aquarium 30 years ago could rapidly invade our planet by cloning itself, according to a new genome study.
The bizarre evolution of the 10-legged crustacean was explored in a genome study led by scientists at the German Cancer Research Center and detailed in a paper published in Nature.
The researchers sequenced the genome of the freshwater marbled crayfish and found that its all-female offspring are genetically identical, meaning they descended from a single mother crayfish.
Scientists counted 3.5 billion base pairs in the crayfish genome, which are some 7 percent larger in size than the human genome. Officially known as Procambarus virginalis but also called the Marmorkrebs, the crayfish has three sets of chromosomes. Most animals have just two sets.
The mutant creature is believed to have originated from slough crayfish, imported from Florida for the aquarium trade in Germany, some 30 years ago. Since then it has spread across Europe, as well as Japan and parts of Africa.
READ MORE: Two-part cancer treatment 'eliminates tumors in mice' – study
"It was known that the crayfish can establish itself in the wild after release from the aquarium but the news was that it can spread so rapidly and massively," study author, Frank Lyko said in a statement.
The study suggests that an animal species can rapidly invade a large geographical area despite reproducing without sex and being clonal. "People would start out with a single animal, and a year later they would have a couple hundred," Lyko told the New York Times.
While its threat to Europe has been limited to date, the EU is in the process of banning it to prevent it from becoming a menace to native species as it has done in Madagascar. Seven crayfish species native to the island nation are now at risk.
"This crayfish is a serious pest," Gerhard Scholtz, an evolutionary biologist at Humboldt University in Berlin, told Science.
A clonal crayfish from nature as a model for tumors: A genome study has proven that all specimen of marbled crayfish originate from a single female. The clonal genome evolution of the crayfish may also help explain processes in tumors. https://t.co/z92aRoqi2t#cancerresearch

— DKFZ (@DKFZ) February 5, 2018
Although the crayfish are born with the same genes, they are able to adapt to a wide variety of habitats. In Marmorkrebs, there is "virtually no genetic variation," Lyko said. This makes the marbled crayfish interesting for tumor researchers.
As tumors also adapt to their environment by developing resistance against anti-cancer drugs, scientists hope to use the model of the marbled crayfish to further investigate tumor genomes. "These findings may enlarge our knowledge about processes in tumors and open prospects for new approaches in tumor treatment," the team said in a statement.
Like this story? Share it with a friend!
You can share this story on social media: