Cowabunga! Real life mutant turtle with 2 heads & 6 legs found in Chinese pet shop (VIDEO)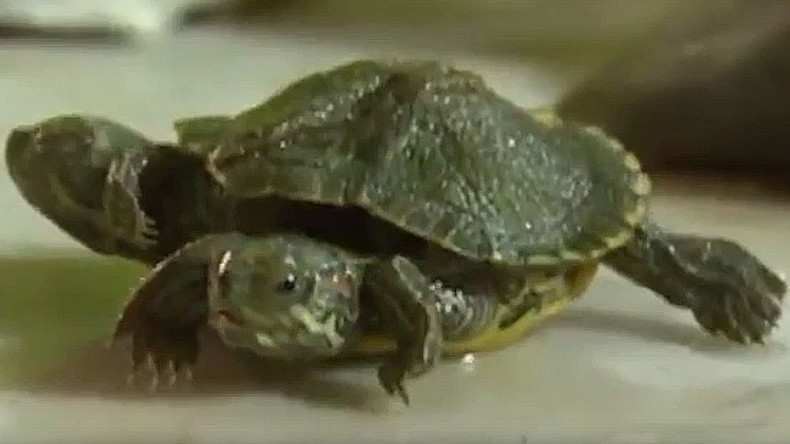 A mutant turtle with two heads and six legs has been discovered in a Chinese pet store.
The baby red-eared slider was found in a flower and fish shop in China's Shanxi Province by the store's owner, Mr. Wong, after he returned from a trip to a wholesale market where he had bought a box of Brazilian turtles.
READ MORE: You goat to be kidding: Mutant 'cyclops' creature baffles locals (VIDEO)
Unknowingly, Wong had also purchased a real mutant turtle with two heads and six legs, although it's not yet known if the reptile will develop ninja skills like the hit children's cartoon Teenage Mutant Ninja Turtles.
The turtle, believed to be two to three months old, maneuvers and eats just like his counterparts, all legs move and eyes blink, according to Wong.
Researchers from the Shaanxi Provincial Institute of Medicine and Life Sciences reportedly told Chinese media that the anomaly was "caused by genetic mutation, just like a human."
Naturally, the mutant turtle has become quite a hit with the locals, who have all been into Mr. Wong's shop to have a look. Some neighbors have reportedly suggested that water pollution was the cause of the mutation.
When cared for properly, a normal red-eared slider can reach 12 inches in length and live for up to 20 years, according to Reptile Magazine.
You can share this story on social media: