Daredevil's spine-chilling tightrope stunt above violent waves hits dramatic snag (VIDEO)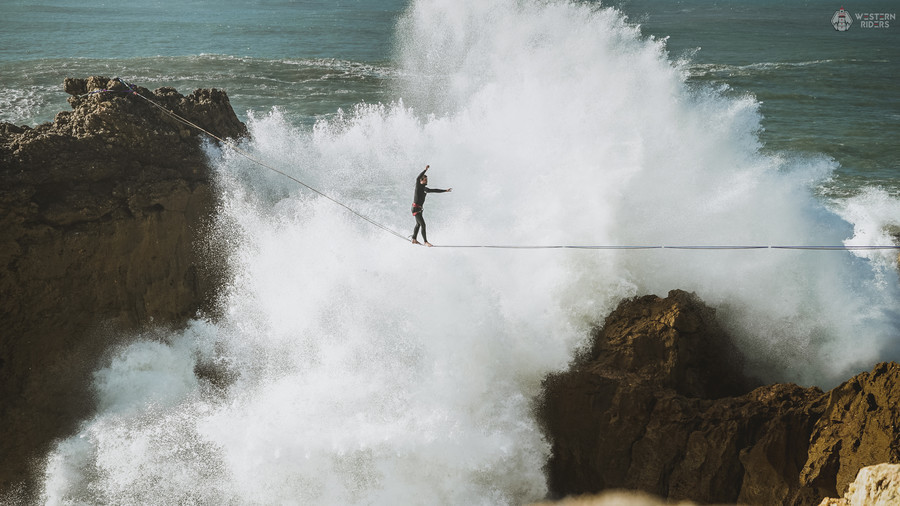 Heartstopping, newly-released drone footage shows the moment a daredevil slackliner lost his footing on a highwire suspended above jagged rocks and crashing waves, at an infamous Portuguese surfing spot.
A group of highliners, known as Western Riders, connected a wire between two cliffs in Nazaré, Portugal – the location of the biggest wave ever surfed, according to the Guinness World Records.
Brazilian highliner Emerson Machado pulled off the elaborate stunt as monster waves crashed beneath him.
Drone footage filmed by Máquina Voadora shows Machado stumble and lose his footing as massive waves engulf him. After a brief struggle the daredevil regains his place, however, and continues walking across the rope.
Despite the danger that comes with the stunt, Machado insists he is not crazy; "It's calculated risk, we are not crazy like it may seems at first sight, in reality everything was planned to the very minor details."
Dozens of walks were carried out by the group between the cliff of Praia do Norte and Pedra do Guilhim rock before this particular hair-raising crossing was made during a big swell on December 30.
"No-one was ever injured during that time, it's relatively safe when performed by an experienced crew, working together with planning and caution," Machado said.
Highlining – a form of extreme tightrope walking involves balancing on a rope that's suspended above the ground or the sea and anchored between two points.
Think your friends would be interested? Share this story!
You can share this story on social media: