Hikers brave 'world's longest' suspension bridge above Swiss ravine (VIDEO)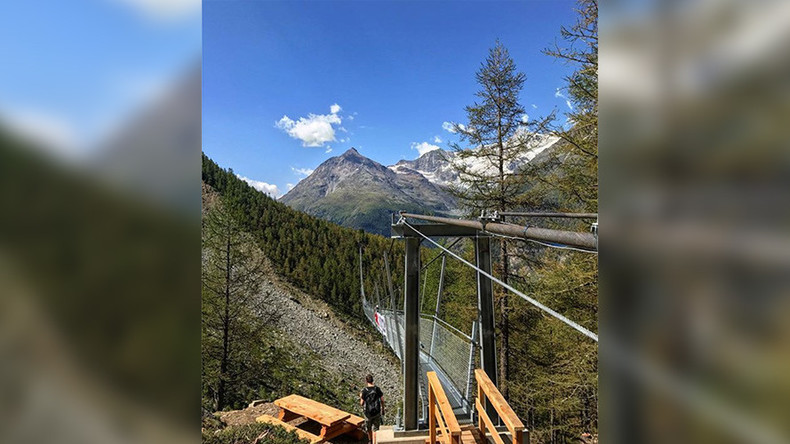 A Swiss ravine, deemed impassable due to frequent rock falls, can again be navigated by hikers thanks to a newly built pedestrian suspension bridge – the longest and perhaps most spine-tingling of its kind in the world.
The Europabrucke suspension bridge, commissioned by donor Charles Kuonen, replaces the Europaweg walkway which was closed to hikers approximately seven years ago for safety reasons.
At 494 meters long and 65 centimeters wide, the enormous span links the two mountain retreats – Zermatt and Grachen.
It also offers those brave enough to traverse the open air crossover views of the imposing 4,478-meter tall Matterhorn mountain.
The new bridge was officially opened Saturday, according to the Zermatt tourism office.
"The new suspension bridge makes the Europaweg [trail] not only safer and simpler, but also a highlight,"said Berno Stoffel, the director of tourism for Grachen.
His Zermatt tourism counterpart Daniel Luggen said the thrill of crossing the bridge is "indescribable."
Images of daredevil hikers crossing the bridge have since appeared on social media, showing how cable walkway curves upwards between the two mountain tops, above the steep Grabengufer ravine.