Tanks for nothing: Chinese police seize man's hand-made battle vehicle (VIDEO)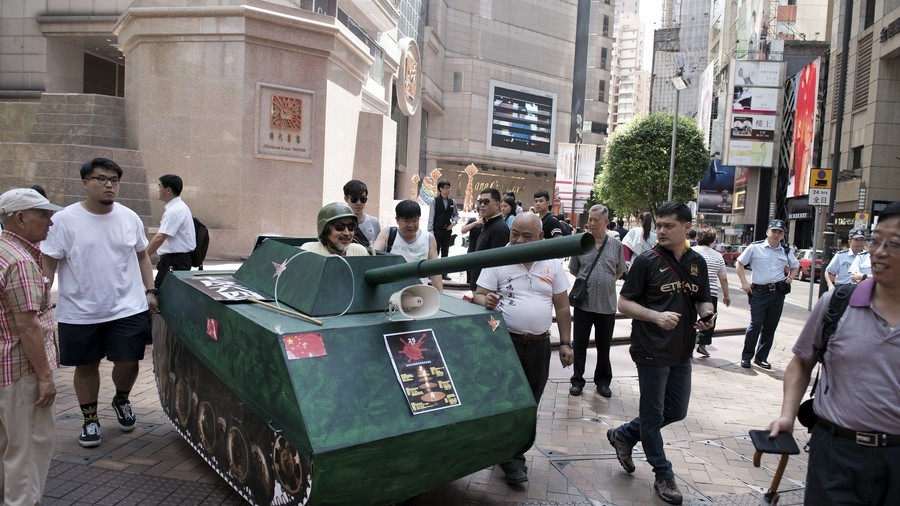 A Chinese man who spent months converting a disused truck into a drivable novelty tank, complete with a gun turret and radar dish, has seen his invention confiscated by police.
The man, identified only by his surname, Huang, had spent two months building the 'war machine' from an old truck in the city of Laibin in Guangxi province, southern China, local news outlets report. By January 22, the lower half of the tank was ready and covered in camouflage paint. Huang hoped that taking his 'tank' on the road would win him that ever-coveted internet fame, and shared his exploits on social media.
"I'm about to install a cannon on my vehicle," Huang said in one video.
READ MORE: PHOTOS of Chinese 'secret railgun' mounted on ship emerge online
The authorities, however, failed to appreciate his craftsmanship. When Huang tried to take it for a drive, police, who'd been tracking his progress on social media, pulled him over and asked to see his license, which he didn't have.
The officers then informed him that his vehicle – which had no glass, door or front number plate – had no permit. Huang was subsequently arrested and later had his driving license revoked, as well as being fined 1,750 yuan (US$278) for driving an unregistered vehicle and being in breach of road safety laws. Huang's 'tank' was seized and will be destroyed.
You can share this story on social media: