Unbearlievable! Shaggy-haired nurse pushes circus artist to recovery (VIDEO)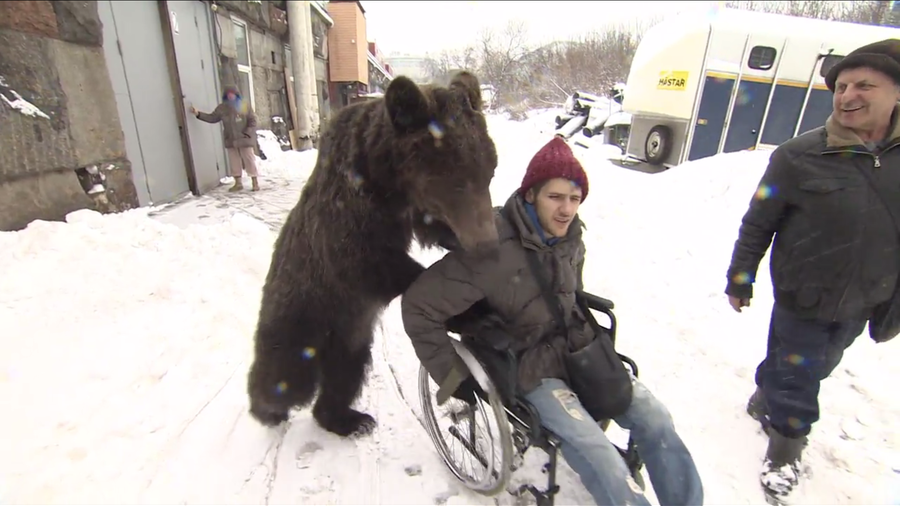 For most of us, not being able to use our legs and then turning to see a bear behind us would be a sign of certain doom. But not for circus artist Oleg Aleksandrov, whose furry friends are helping him recover after an accident.
Last year, Aleksandrov, a member of the Great Moscow Circus, fell 18 meters while fitting equipment at the top of a circus dome in Nizhny Novgorod, breaking both legs. At the time, he'd been raising three little bear cubs which he calls his own "hairy children."
"They were tiny back then and we bought up all the children's food in the shops because that's what they ate. We fed them from a bottle and raised them since then," Aleksandrov told RT's Ruptly video agency.
"I remember when I fell, I was very worried about when they'd finally come back to me, because I hadn't seen them in something like four months."
READ MORE: 'I was terrified': When 'emotional support animals' go wrong
But the trio not only recognized Aleksandrov, they welcomed him back to the furry fold.
"Bears have very poor eyesight. I approached them and stretched out my hand and they sniffed it for a long time. They probably recognized me by my scent and could tell what had happened to me. They of course accepted this scent as one of their own."
Now, as Aleksandrov recovers, his three "hairy children" are standing by, pushing him along on his wheelchair and showering him with kisses… as long as they get their treats, of course!
You can share this story on social media: