'Crooked idea': Ankara lashes out at France's Macron over 'Syria invasion' remark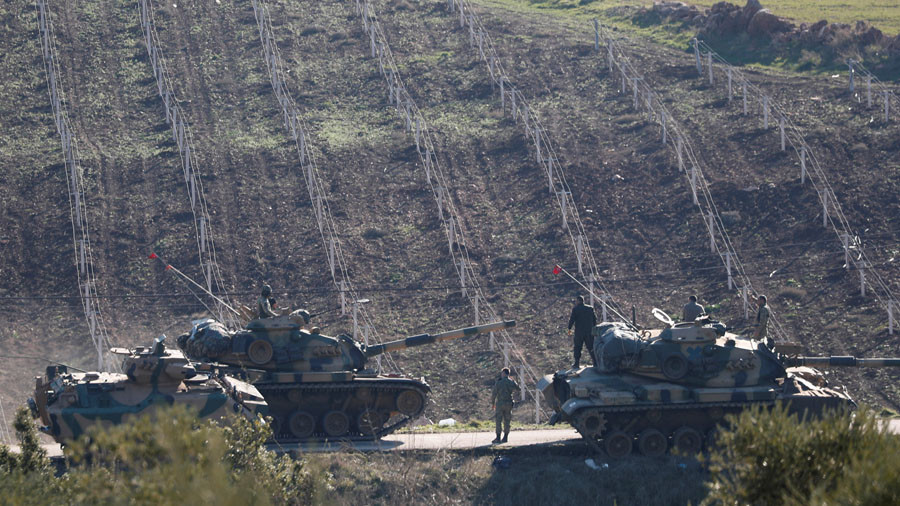 The Turkish PM has hit back at French President Emmanuel Macron over his remark, which suggested Ankara's military operation in Syria may be an invasion and a problem for Paris. Turkey insists the op is counter-terrorism.
Macron questioned Turkey's motives for going after the Kurdish enclave of Afrin in northwestern Syria in an interview with Le Figaro newspaper published on Wednesday.
"If it turns out that this operation takes a turn other than to fight a potential terrorist threat to the Turkish border and becomes an invasion operation, [then] this becomes a real problem for us," he said.
Turkish Prime Minister Binali Yildirim dismissed the remark, saying "Turkey is never acting with an occupying mindset" and calling Macron's suggestion a "crooked idea."
"If France is interpreting this issue as an [invasion operation], we need to assess what they have done in Syria accordingly," he told a news conference in Ankara, speaking alongside visiting his visiting Lebanese counterpart Saad Hariri.
"Those who want to make sense of what we are doing in Afrin should look at the 2,000km [1,242-mile] area covering Manbij, Jarabulus, and Azez as part of Operation Euphrates Shield," he added, referring to the previous Turkish military operation in Syria, which was launched in 2016.
Turkey commenced a ground and air offensive against Afrin last week, saying it was targeting the Kurdish YPG militias, which it considers an extension of the Turkey-based militant movement PKK. The YPG were crucial for the US-led siege of Raqqa, the now-destroyed stronghold of Islamic State (IS, formerly ISIS).
READ MORE: Turkish op in Afrin leaves 'grim tally' of children killed, 'fleeing families' in Syria – UNICEF
The new Turkish operation, called Olive Branch, was launched days after the Pentagon announced it was planning to arm and train a predominantly Kurdish "border security force" based in Afrin. Ankara branded the planned force a "terrorist army" and moved to preemptively attack the Kurdish militias.
The Kurdish issue has strained Turkey's relations with the US, its long-time ally and fellow NATO member. The deterioration started during Barack Obama's presidency and has failed to reverse under the Trump administration, which is pursuing a more active US involvement in the Syrian crisis.
If you like this story, share it with a friend!
You can share this story on social media: