'Double standards': Kurds slam US for not fighting 'Turkish occupation' of Afrin (VIDEO)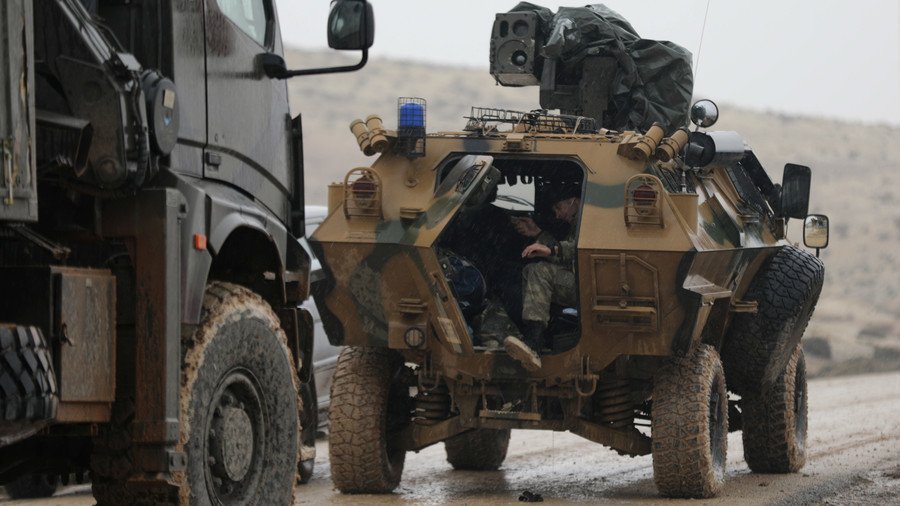 As Kurdish fighters look to the US to help in the fight against Turkish troops in Manbij, some are accusing Washington of double standards after it did nothing to protect Afrin from "Turkish occupation."
"With the coalition, especially the US forces, we saw some double standards," a Kurdish military officer by the name of Khalil told RT's Ruptly agency. "What we demand from the US, in particular, is to fulfil the promises to the [US-backed Syrian Democratic Forces] – that is to protect the liberated areas, including Afrin, which, as we can see, has been fighting heroically and fiercely for seven days against Turkish occupation..."
The US did not step in when Turkey launched its 'Operation Olive Branch' in Afrin, which Ankara says is aimed at battling terrorists in the region. Instead, President Donald Trump "relayed concerns that escalating violence [in Afrin] risks undercutting [sic] our shared goals in Syria," a White House spokesperson said. "He urged Turkey to exercise caution and to avoid any actions that might risk conflict between Turkish and American forces."
Turkish President Recep Tayyip Erdogan has warned that Manbij will be the next target of the operation, with the leader vowing to "cleanse" the city of "terrorists." All eyes are currently on the US to see whether troops will become involved there, despite having done nothing in Afrin.
Up to 2,000 American soldiers are stationed in Manbij, after being deployed there in March to prevent Turkish and US-backed rebels from fighting each other. They have also carried out training and advising missions in the city.
The US-led coalition worked together with Kurdish fighters to liberate Manbij from Islamic State (IS, formerly ISIS). Because of this, Manbij Military Council Spokesperson Sharvan Darwish expressed hope and optimism that the US won't back away from the city now.
"[The US-led coalition] have been supervising the training and development of the Manbij Military Council until now. The level of coordination is going on normally, and it is even better now, to be honest. There are continuous patrols either on the frontline or in the air. There is nothing until now that suggests they will draw back this coordination or work..." Darwish said.
Turkey launched 'Operation Olive Branch' on January 20. Ankara intends to make Manbij its next stop before continuing further east towards the Iraqi border.
Like this story? Share it with a friend!
You can share this story on social media: