Radio silence after 'very productive' Putin-Netanyahu Moscow talks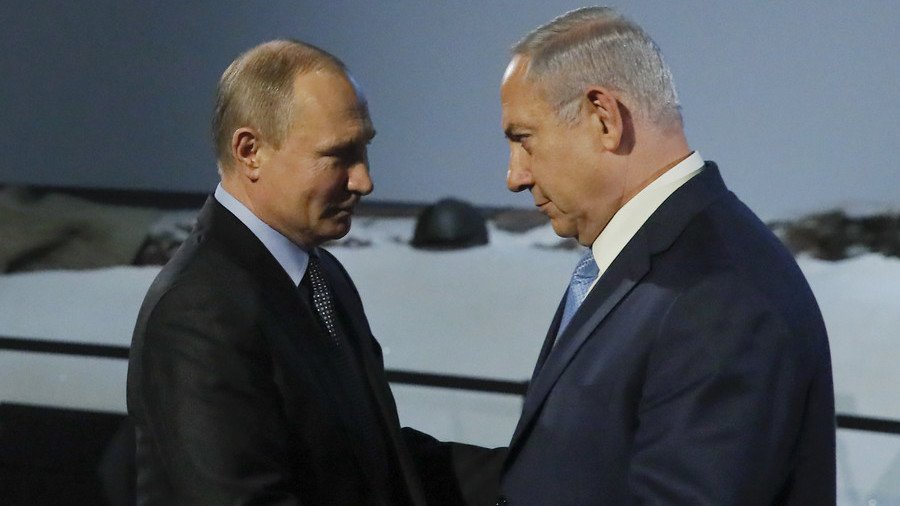 Not many details have emerged from the lengthy Moscow talks between Vladimir Putin and Benjamin Netanyahu, in which the two leaders were expected to discuss military cooperation on Syria and Iran's influence in the region.
Russia's president and the Israeli prime minister met in the Jewish Museum and Tolerance Center in Moscow, where they also attended an event marking Holocaust Remembrance Day and the anniversary of the lifting of the Leningrad siege during the Second World War.
The pair watched a presentation of the upcoming film 'Sobibor' about the only successful uprising in a Nazi death camp and visited the Museum's exhibition. Following the public event, the leaders held talks behind closed doors.
Putin and Netanyahu discussed a number of bilateral and regional issues, as well as the process of reconciliation in Syria, the Russian president's aide Yuri Ushakov told reporters. The Syrian National Dialogue Congress, currently taking place in Sochi, was also among the topics discussed, the official said, without providing any details.
Senior Israeli official Ze'ev Elkin, who came to Moscow alongside Netanyahu, said the meeting between the two leaders was "very fruitful and lasted longer than it was planned." Meetings between Putin and Netanyahu have "contributed greatly to the security of our country," he added.
The Israeli prime minister highlighted some of the topics he discussed with Putin in a recorded statement posted on Twitter. Netanyahu said he told the Russian president about his concerns of "Iranian attempts to create military bases in Syria," and of Tehran's alleged attempts to place "high-precision weapons" in Lebanon to target Israel. Tel Aviv firmly opposes such actions and will act on its own if the international community won't handle the issue, he warned Putin. The reaction of the Russian president to these statements, however, remained a mystery.
You can share this story on social media: