100s of US rabbis urge Israel to halt deportation of African migrants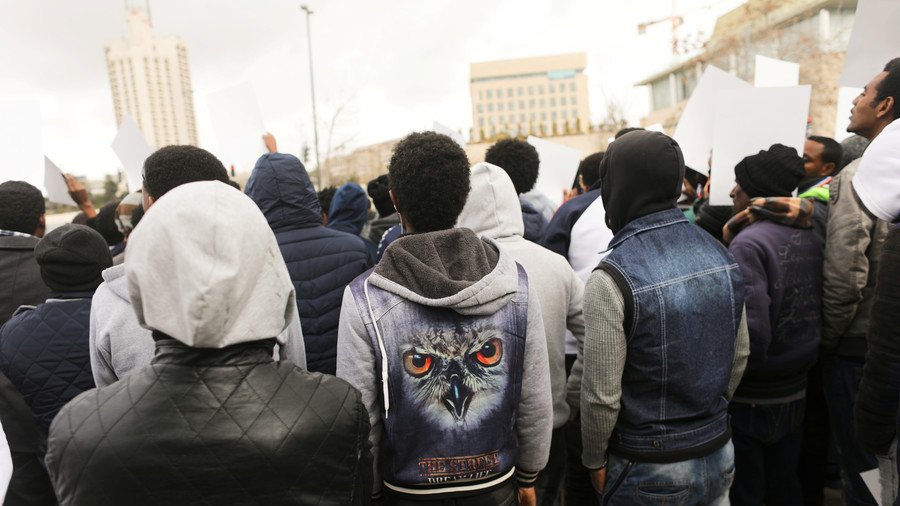 More than 800 rabbis and other Jewish clergy in the US have signed a letter calling on Israel to reverse its plan to deport African migrants, arguing the asylum seekers are "escaping torture, enslavement, and war."
"As a country founded by refugees, and whose early leaders helped to craft the 1951 International Convention on the Status of Refugees, Israel must not deport those seeking asylum within its borders," reads the letter, which was written by the Jewish groups New Israel Fund, HIAS, T'ruah, and Right Now.
"We Jews know far too well what happens when the world closes its doors to those forced to flee their homes," the letter continues. "The asylum seekers who have come to Israel are escaping torture, enslavement, and war. We are angered by reports that many of those who have been deported to Africa have already suffered rape, robbery, torture, and human trafficking."
It goes on to urge the Israeli government to "start living up to Israel's international responsibilities" outlined in the International Convention on the Status of Refugees. Such details include "providing asylum seekers a fair chance to file applications for refugee status, and refraining from deporting asylum seekers to countries that cannot guarantee their safety."
The letter calls on the government to review asylum seeker applications in an "effective, fair, transparent, and impartial manner." Jewish rabbis, cantors, and rabbinical or cantorial students are all invited to sign the document online.
It comes after the Knesset last month approved an amendment to the so-called "Infiltrator's Law," which paved the way for the deportations of Eritrean and Sudanese migrants and asylum seekers. Those deportations are due to begin in March.
Migrants who choose to leave by March 31 will receive a payment of US$3,500, as well as free airfare and other incentives, according to reports cited by Israeli media. Those who refuse to leave voluntarily face imprisonment at Holot Prison until they are forcibly deported. The initiative is expected to last two years.
Israeli Prime Minister Benjamin Netanyahu has also announced deals to send migrants to third-party countries in Africa, reportedly Rwanda or Uganda, but has refused to confirm the nations involved in the agreements.
In November, Rwandan Foreign Affairs Minister Louise Mushikiwabo said the country could accept approximately 10,000 asylum seekers from Israel. Tel Aviv will reportedly pay $5,000 to the Rwandan government for each deported migrant.
The most recent letter follows a similar call from Jewish groups in November, in which they urged Netanyahu to reconsider the deportation plans. His office responded in December, defending the plans, stating that "the overwhelming majority of the illegal migrants who have arrived in Israel over the past decade are neither refugees nor asylum seekers, but rather economic migrants who have come to Israel in search of work."
In response, the groups drafted another letter on January 8 with cited statistics and scrutinized Israel's current policies. "The fact that fewer than one percent of Sudanese and Eritrean asylum applicants in Israel have received refugee status casts serious doubts on the validity of Israel's asylum process as it currently stands," the groups wrote.
There are an estimated 38,000 African migrants and asylum seekers in Israel, according to the country's interior ministry. About 72 percent are Eritrean, while 20 percent are Sudanese. The majority of migrants arrived between 2006 and 2012.
Think your friends would be interested? Share this story!
You can share this story on social media: