'Burn your village': Israeli minister posts video with football fans chanting anti-Arab slogans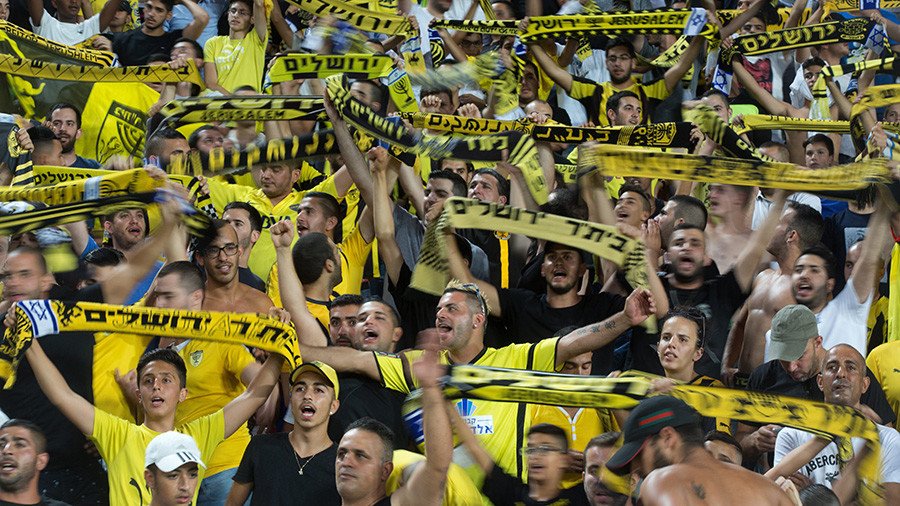 An Israeli football club has pledged to crack down on radical fans after a game marred by anti-Arab chants. The sports minister posted a video from the match which featured the offensive calls.
Beitar Jerusalem is notorious for having a radical component among its fan base. During a game on Monday against Bnei Sakhnin, the most successful Israeli Arab football club, some Beitar Jerusalem fans chanted slogans such as "I hate all Arabs," "Burn down your village," and "Muhammad is dead," according to the Times of Israel. There was an announcement at Beitar Jerusalem's Teddy Stadium, asking the fans to stop, but they continued with the chants.
Now, as the club faces fines for hate speech, management says they will shut down an entire section of the stadium, where the radical fans gather.
"The club is taking the gloves off in the battle against violence and racism," a statement said, adding that the club is "disgusted" by the behavior, and "a decision has been made to close the eastern section to fans until further notice."
The Times of Israel noted that the club has a history of anti-Arab sentiment, including among its managers. Beitar Jerusalem is the only football club in Israel that has never had an Israeli Muslim player among its ranks, which is part of the club's unofficial policy, according to the report.
The club blamed both the sports and public security ministries for neglecting the matter. "Where are members of the special unit created to directly deal with incidents of violence and racism in sports? We feel neglected and alone, and the unit's helplessness was felt with regard to the match against Bnei Sakhnin."
Incidentally, one of the ministries had a representative at the game. Culture and Sports Minister Miri Regev posted a video of herself standing among Beitar Jerusalem fans and cheering for the team, at the same time fans chanted "Burn down your village," which did not seem to bother the official.
On Tuesday, she said the ministry would call an "urgent meeting on the subject of violence," adding that "we will take strong action and will not have any tolerance toward violence and racist calls in sports arenas."
Regev, who is member of the ruling Likud party and a former spokesperson for the IDF, was appointed to her current cabinet position in 2015. An outspoken supporter of Prime Minister Benjamin Netanyahu, she also made headlines in the Israeli media this week for hijacking a Monday cabinet meeting to deliver a celebratory speech to her boss, calling him a "great leader" who was "treated like a king" during his recent visit to India.
Regev is also known for once calling African migrants "a cancer in the body of the nation," though she later apologized for the statement.
You can share this story on social media: