Doll heads covered in red paint left at Israeli migration office in anti-deportation stunt (VIDEO)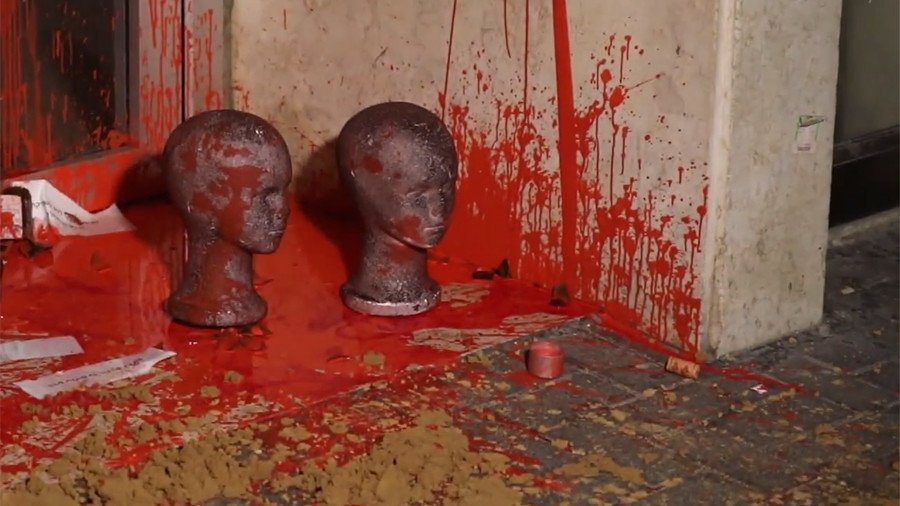 A number of severed black mannequin heads smothered in artificial 'blood' were brought to the door of Tel Aviv immigration officers on Saturday in what is seen as a protest against the looming deportation of African refugees.
The 'bloodbath' scene outside the Tel Aviv office of the Population, Immigration, and Border Authority (PIBA) included notes scattered on the floor, also stained with red paint. The notes warned that the action was "just the beginning" and the planned deportation of thousands of Eritrean and Sudanese asylum seekers "will not come to pass quietly," Israeli media reports.
Only massacre awaits the African asylum seekers at home, the notes read. "Their blood in on your hands."
Without addressing the concerns, the Israeli immigration body went into a fury as it branded the stunt "an act that has no resemblance to a legitimate or acceptable [form of protest]," and accused the activists behind it of inciting violence.
"Today, a red line was crossed and this is where it stops," PIBA stressed. Police are probing the incident as an act of vandalism.
Earlier this month, the Israeli government approved an amendment allowing indefinite imprisonment for an estimated 38,000 illegal African migrants, mostly from Eritrea and Sudan, if they refuse to leave the country voluntarily by March. The bulk of the asylum seekers entered Israel between 2006 and 2012, before border officials stemmed the flow from the war-ravaged countries by erecting a fence on the border with Egypt in 2013.
The previous scheme, in place since May 2015, saw migrants who agreed to leave voluntarily receive a $3,500 handout and a free plane ticket. While this option remains available even after the amendment takes effect, the compensation will be much smaller, Israeli Prime Minister Benjamin Netanyahu announced.
Jewish human rights groups, including Holocaust survivors, have been up in arms about the plan. In a letter to Netanyahu, leaders of North American Jewish organizations noted that elsewhere in the world the majority of Sudanese and Eritrean asylum seekers, fleeing hardship and war, enjoy protection, while in Israel asylum is granted to less than 1 percent of all applicants.
READ MORE: 'Great idea': Netanyahu tweets support for Trump's Mexico border wall
The Israeli government, meanwhile, insists that thousands of undocumented African migrants pose a grave risk to security and safety. Netanyahu, who is a staunch proponent of the hardline immigration policies of the US administration and, in particular, the construction of a border wall along the US-Mexican border, boasted in January about expelling around 20,000 migrants. "Now the mission is to get the rest," he said.
The Prime Minister indicated deals will be struck with "third countries" to which the rejected asylum seekers will be expelled. While Rwanda used to strike such deals with Israel in the past, it this week denied a deal had already been signed.
Although it is currently unclear where the migrants will be sent, a number of pilots for Israel's flag carrier El Al have announced on social media they will not "fly refugees to their deaths." Over 12,000 people have signed a petition calling on pilots and staff at Ben Gurion Airport to block such flights from taking off.
You can share this story on social media: