1,100 migrants banned from Tel Aviv, Eilat after spending 12+ months in desert detention center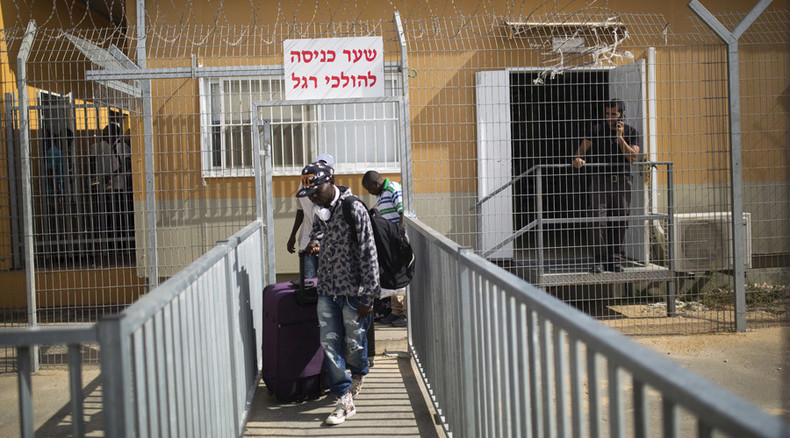 Over 1,100 migrants have been released after a year in a detention center in southern Israel, but authorities have prohibited them from entering Tel Aviv and Eilat, so some of them now remain stranded in the desert.
A fortnight ago, a court ruled that 20-month temporary detention for migrants is "disproportionate," shortening that to a year – thus, the first 750 inmates left the Holot facility on Tuesday in small groups, according to AFP. More of them are scheduled to go Wednesday.
After the ruling, dozens took to the streets to demonstrate against the decision, saying that it will cause the influx of migrants.
"If the High Court lived among us, it would know about all the attacks here, all the crime, that people here have no sense of personal security," Yigal Ben-David, a protester at the demonstration told The Times of Israel.
The bail terms included banning the migrants from Tel Aviv or the southern city Eilat – places where the migrant population is already quite big. Also, the released inmates are set to get a $156-dollar stipend, plus water, food, and medicine, The Times of Israel reported.
"We don't know where to go, where we're going to sleep tonight," Salah, a 33-year-old Sudanese man, told AFP. Salah has been in Israel for nine years, including 20 months at the detention center.
"They gave us a paper that says 'prohibited from going to Eilat or Tel Aviv,' but that's where we know people. I don't have money to rent an apartment. Where do I go now?"
The cities where the migrants will go are Arad, Ashkelon, Ashdod, Rishon LeZion, Yavneh and Haifa, according to Channel 2. If they go to Tel Aviv or Eilat, migrants will be transferred to other allowed cities.
Around 47,000 African migrants now reside in Israel, most of them having an asylum seeker status. Over 90 percent of them are from Eritrea, Sudan and the Congo. Most of those are in Israel illegally and live in poor areas of southern Tel Aviv.
Since 2009, Israel has accepted less 0.15 percent of asylum claims, the lowest rate in the Western world.
You can share this story on social media: