'US strangling Palestinians & trying to make them submit'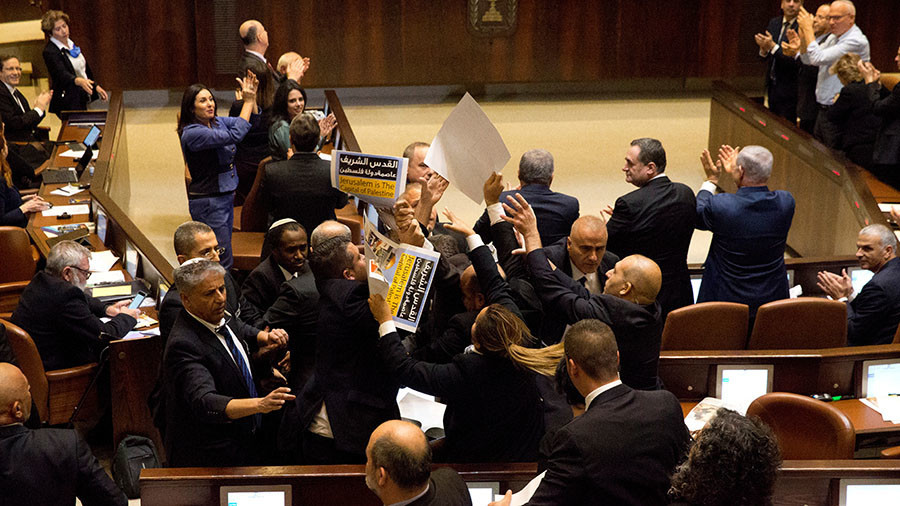 US policy on Israel-Palestine is almost entirely controlled by two elements in Washington – the pro-Israeli lobby and the arms industry, Max Blumenthal, a senior writer for AlterNet, told RT.
President Trump said the US might decrease aid to Palestine during a meeting with Israeli Prime Minister Benjamin Netanyahu at the World Economic Forum in Davos, Switzerland.
"When they disrespected us a week ago by not allowing our great vice president to see them, and we give them hundreds of millions of dollars in aid and support, tremendous numbers, numbers that nobody understands – that money is on the table and that money is not going to them unless they sit down and negotiate peace," Trump said.
"And they [Palestinians] are going to have to want to make peace too, or we're going to have nothing to do with it any longer," he added.
Earlier in the week, a brawl erupted in Israel's Knesset after Arab lawmakers protested US Vice President Mike Pence's speech. The MPs – who were holding signs which read "Jerusalem is the capital of Palestine" – were removed from the building.
AlterNet senior writer Max Blumenthal called Pence's speech "deeply offensive" to Palestinians.
"Mike Pence was the first vice president to visit the Israeli Knesset. He is a Christian Evangelical who pounded the Bible before the Knesset, essentially staking Israel's claim to all of Jerusalem on the Bible, which is even from Biblical historical perspectives false," he told RT.
Earlier, Palestinian Authority head Mahmoud Abbas branded Trump's recognition of Jerusalem as Israel's capital "the slap of the century."
According to Blumenthal, this move signaled a "break with decades of American policy and an explosion, a detonation of the two-state solution." It is natural that Abbas responded this way and refused to meet with Pence, he added.
In Blumenthal's view, the real reason why Trump threatened to suspend aid to the Palestinian Authority "is because he is being controlled by his son-in-law, the 'American Crown Prince' Jared Kushner." He added that Kushner's family has a deep relationship with Israeli PM Netanyahu.
"Their family foundation has donated to Israeli settlements, they are very pro-Israel," the writer told RT.
Blumenthal cited a diplomat he interviewed who attended meetings with the Trump administration on Palestine. "Kushner is seeking to withhold funding to the Palestinians and drain the main Palestinian refugee aid agency ANERA (American Near East Refugee Aid) in order to force the Palestinians into a deal, in which they would essentially give up Palestinian statehood, give up the refugee question, and allow Israel to consolidate its permanent control over the West Bank."
"So that is really what's happening here – they are strangling the Palestinians and trying to make them say uncle."
Meanwhile, the Palestinians through Abbas are looking for other partners in Russia, China and Europe, Blumenthal told RT, adding that "the US has lost its influence."
According to the journalist, "for anyone who believes in peace in the Holy Land, removing the US or weakening its role in negotiations should be a goal."
In Blumenthal's opinion, the US and its policy on Israel-Palestine is almost entirely controlled by two elements in Washington – the pro-Israeli lobby and the arms industry, "which sells billions and billions of weapons to Israel in the form of US loans."
"The US role in Palestine has basically been as the kind of puppeteer of colonization, of moving 350,000 settlers into the West Bank, walling off the Gaza Strip and now transforming Jerusalem – as an international city – into Israel's capital," he told RT.
"Unfortunately the US dictates what happens on the ground," Blumenthal told RT.
Commenting on how the situation may develop further, the writer said that there are many possible nightmare scenarios.
"One is that Israel attempts to push the Palestinians to violence in order to further entrench its control in the West Bank," Blumenthal said.
Another possible scenario, according to Blumenthal, would be a war on Israel's northern border with Hezbollah, "which is something that the Saudi, Israeli, United Arab Emirates (UAE) axis along with Trump and Kushner have been trying to provoke."
Blumenthal argues that "could expand into Gaza, where Hamas – which is an ally of Iran and Hezbollah – is in control." "You could see mass deaths in the besieged Gaza Strip, which is experiencing the worst conditions ever along with unprecedented destruction and destabilization in Lebanon," he added.
According to Blumenthal, the Israeli defense chief and some senior Israeli military intelligence officials "threaten to completely level Beirut if there is an escalation with Hezbollah."
He also told RT that Hezbollah had become stronger after the experience it gained in Syria.
"We're looking at a tinderbox with the Trump administration not doing anything to put red lines on Israeli activity in the West Bank or Israel's bellicose threats towards Lebanon and the Gaza Strip," he warned.
You can share this story on social media: