Negotiate or lose 'hundreds of millions' in aid, Trump tells 'disrespectful' Palestinians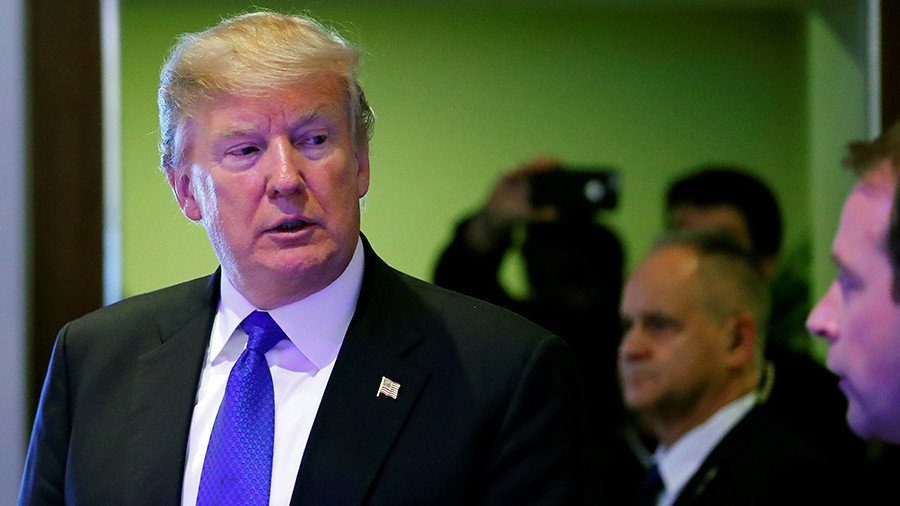 US President Donald Trump has warned Palestinians they will miss out on US aid if they don't sit down and hold talks with Israel, after they snubbed the visit from Vice President Mike Pence.
Trump voices his threat during a meeting with Israeli Prime Minister Benjamin Netanyahu at the World Economic Forum in Davos, Switzerland.
"When they disrespected us a week ago by not allowing our great vice president to see them, and we give them hundreds of millions of dollars in aid and support, tremendous numbers, numbers that nobody understands – that money is on the table and that money is not going to them unless they sit down and negotiate peace," Trump said.
"And they [Palestinians] are going to have to want to make peace too, or we're going to have nothing to do with it any longer," he added.
Trump promised Netanyahu that the US embassy would move from Tel Aviv to Jerusalem by 2019, as he ordered in December. "So I will say that the hardest subject they had to talk about was Jerusalem. We took Jerusalem off the table, so we don't have to talk about it anymore. They never got past Jerusalem," said Trump.
Asked by a Times of Israel corresponded what the phrase "off the table" means and whether there will be any Palestinian part of Jerusalem, Trump responded: "Next question."
The "off the table" comment drew backlash from the Palestinian Authority (PA), which said if Jerusalem is off the table then Washington no longer has a seat at that table. "Jerusalem is not off the negotiations table, rather the US is outside the international consensus. Those who say that Jerusalem is off the table are saying that peace is off the table," said Saeb Erekat, chief negotiator and senior official of the Palestine Liberation Organization (PLO).
"Trump could buy many things with his money, but he won't be able to buy the dignity of our nation," Erekat said, apparently in response to Trump's threat of aid withdrawal.
If the US cuts aid to the Palestinians it could cause tensions in the Middle East to explode, Russia's UN envoy Vasily Nebenzya said at Thursday's UN Security Council meeting. "We can't allow Palestinians to find themselves in such a situation, when they actually have nothing to lose – it nourishes radicalism and may blow up the situation in the Palestinian territories and in the entire region," he added.
Trump's stance was mirrored in comments made at the same meeting by the US ambassador Nikki Haley, who criticized Abbas for lacking "courage and the will to seek peace." Washington doesn't need to "chase after leadership that lacks what is needed to achieve peace," the US envoy said.
This is not the first time Trump has threatened to cut aid to the Palestinian Authority, accusing them of unwillingness to negotiate with Israel. In a tweet on January 2, Trump said the US gets no "appreciation or respect" from Palestine despite donating hundreds of millions of dollars a year.
It's not only Pakistan that we pay billions of dollars to for nothing, but also many other countries, and others. As an example, we pay the Palestinians HUNDRED OF MILLIONS OF DOLLARS a year and get no appreciation or respect. They don't even want to negotiate a long overdue...

— Donald J. Trump (@realDonaldTrump) 2 января 2018 г.
The tweet came after Abbas rejected Trump's move to recognize Jerusalem as the capital of Israel, saying the US can no longer be considered an honest broker in peace negotiations.
The US has since announced it is withholding $65 million in aid to the United Nations Relief and Works Agency (UNRWA), which works with Palestinian refugees. The State Department said the move was not aimed at punishing the Palestinians.
You can share this story on social media: