Drones are new serious terrorist threat in Syria – Russian defense minister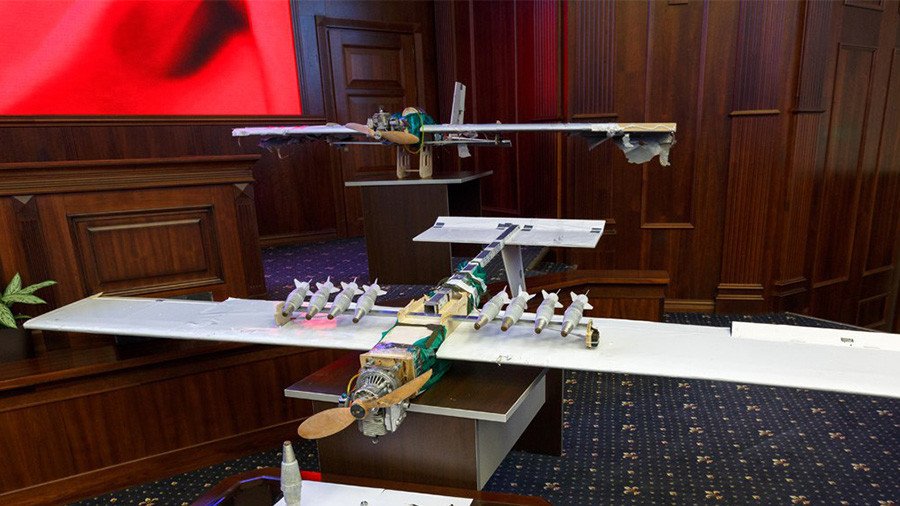 Drones have turned into a new kind of terrorist threat for Syria as extremists use them for their attacks with a range of more than 100 kilometers, Russia's Defense Minister has said.
Moscow is ready to share experience to battle drones which terrorists began using for their attacks, including in the Syrian Arab Republic, Russian Defense Minister Sergey Shoigu said during his visit to Myanmar on Saturday.
"A new kind of terrorist threat – unmanned aerial vehicles – with a range of more than 100 kilometers has emerged in Syria," Shoigu stated after the meeting with commander-in-chief of the Myanmar Armed Forces, Min Aung Hlaing. He added that Russia can share its experience in battling these "very serious threats."
READ MORE: Russian MoD says it has killed group of militants who attacked its airbase in Syria (VIDEO)
On January 6, Russian military repelled a massive drone attack, involving 13 vehicles, on its bases in Syria. Russia's Khmeimim Airbase in the Syrian province of Latakia was attacked by 10 unmanned combat aerial vehicles, while three more attempted a strike against the Russian maritime facility located in Tartus. The Russian military later said the drones had been launched from the village of Muazzara, in the south-western part of the Idlib governorate, controlled by "moderate opposition" forces backed by the Turkish government.
The drone assault was the second attack on Russian military facilities in Syria in a week. On December 31 2017, two Russian servicemen were killed in mortar fire at Khmeimim Airbase. The perpetrators of the attack and the militants' drone facility were later destroyed with a high-precision strike, according to the Russian military.
If you like this story, share it with a friend!
You can share this story on social media: