Turkish field op against Afrin Kurds 'de facto underway' – Erdogan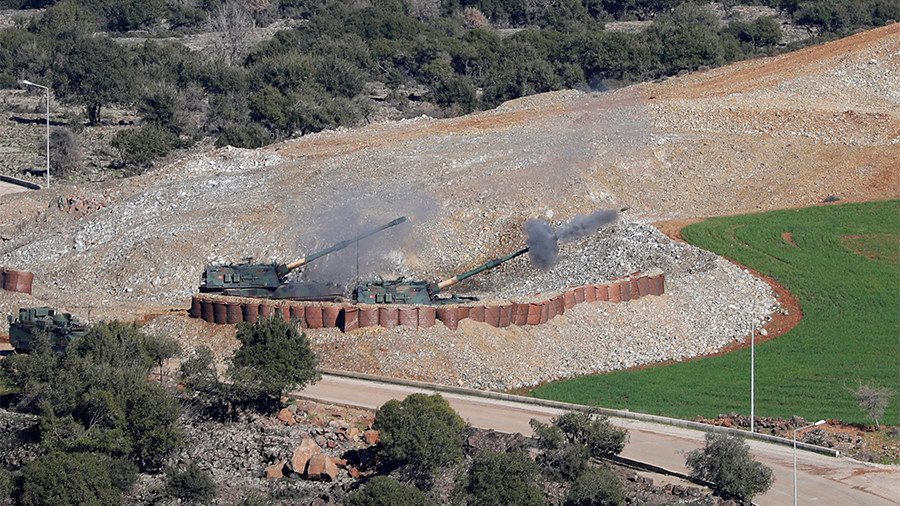 Ankara has "de facto" begun its operation against Kurdish forces in Syria's Afrin, Turkish President Recep Tayyip Erdogan said after the army called the military strike "legitimate self-defense."
READ MORE: Turkish planes bomb Syrian Kurdish targets as Ankara-backed rebels enter Afrin
"The Afrin operation has de facto been started on the ground," Erdogan said in a televised speech in the city of Kutahya, as cited by AFP.
"This will be followed by Manbij," he added, referring to a Kurdish-controlled town in northern Syria, about 30 kilometers west of the Euphrates.
Both Afrin and Manbij are controlled by the YPG Syrian Kurdish militia.
"The promises made to us over Manbij were not kept. So nobody can object if we do what is necessary," Erdogan said, referring to previous US assurances that the YPG would move out of Afrin.
"Later we will step-by-step clear our country up to the Iraqi border from this terror filth that is trying to besiege our country," he concluded.
The army said it shelled Kurdish positions in Syria's Afrin region on Friday and Saturday, destroying shelters and hideouts used by militants from the Kurdistan Workers' Party (PKK), Syria's Democratic Union Party (PYD) and the Kurdish People's Protection Units (YPG).
In a written statement, the Turkish General Staff said the army hit the terrorist organization's shelters "within the scope of legitimate self-defense," as cited by Turkish news agency Anadolu.
According to Ankara, Syria's Democratic Union Party (PYD) and its affiliate People's Protection Units (YPG) are allegedly linked to the Kurdistan Workers' Party (PKK), which is considered a terrorist organization by Turkey.
Turkey's Defense Minister said on Friday that Ankara has no option but to carry out a military operation in the north-western Syrian enclave of Afrin (a Kurdish-held area of Syria.) The minister added that the operation has actually 'de facto started' with cross-border shelling.
According to Anadolu, at least ten howitzer shells were fired on targets in Syria by Turkish artillery deployed in the Kirikhan and Hassa districts of Hatay province. The Turkish military said they are preventing the creation of a "terror corridor" connecting Syrian Kurdish enclaves along the border.
RIA Novosti cited an YPG source as saying on Friday that "more than 70 artillery rockets" coming from the Turkish side had landed in the Afrin area.
Turkish President Recep Tayyip Erdogan stated on Monday that "the operation [in Afrin] may start at any time" adding that "operations into other regions will come after."
Turkey's allies should think twice before they consider helping what he called terrorists in Syria, Erdogan said.
"We won't be responsible for the consequences," the Turkish leader warned.
On Friday, the main opposition Republican People's Party (CHP) leader, Kemal Kilicdaroglu, called on the ruling Justice and Development Party (AKP) to put their faith in diplomacy before launching any military operation into Afrin.
"If diplomacy is used, an agreement is reached, and aerial support is also provided, the problem can be solved. Otherwise, the problem would grow bigger and its cost for Turkey would be hefty," the lawmaker warned, as cited by Hurriyet newspaper.
On Thursday, Damascus warned Turkey against launching a military operation in Afrin, noting that Syrian air defenses are ready to defend against any "acts of aggression."
"We warn the Turkish leadership that if they initiate combat operations in the Afrin area, that will be considered an act of aggression by the Turkish army," Deputy Foreign Minister Faisal Meqdad said in a statement, as cited by Reuters.
"The Syrian air defenses have restored their full force and they are ready to destroy Turkish aviation targets in Syrian Arab Republic skies," he added.
Over the past week, tanks and self-propelled howitzers have been arriving in the border areas inside Turkey, local media reported. Notably, the army has deployed signal jammers, indicating that the intervention might also include electronic warfare.
The looming military op in Afrin is a follow-up to Turkey's seven-month Euphrates Shield Operation that was meant to target Islamic State (IS, formerly ISIS) and drive Kurdish forces out of their enclaves in northern Syria.
You can share this story on social media: