Afrin knot: How the battle for a small Kurdish enclave could be the death knell for US-Turkey ties
Published time: 18 Jan, 2018 17:37
Edited time: 20 Feb, 2018 10:13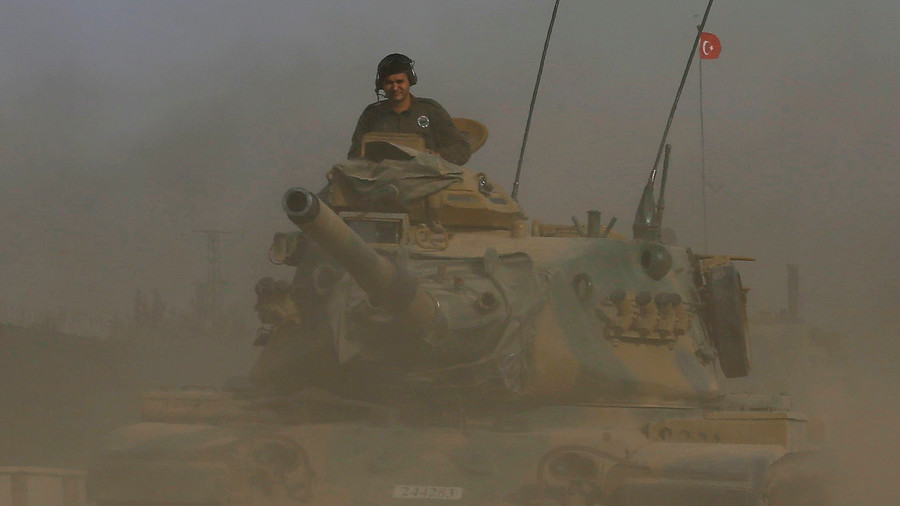 Turkey is gearing up to move troops toward Afrin, a Kurdish-held area of Syria. The battle over the tiny enclave, which many would struggle to find on the map, could put Ankara in open conflict with NATO ally the US – here's how.
READ MORE: Erdogan demands NATO take stand on US-backed Syrian Border Force
This week, the countdown began for Afrin, a Kurdish-held enclave in the north of Syria which is feverously preparing for a major Turkish offensive. Over the past few days, international media have been reporting about Turkish troops, tanks and armored vehicles rolling towards the Syrian border.
The upcoming intervention in Afrin is said to be an extension of Turkey's Euphrates Shield Operation, the declared goal of which was to target Islamic State (IS, formerly ISIS) and drive Kurdish forces out of their enclaves in northern Syria.
As soldiers on both sides prepare for what is shaping up to be a fierce battle, we look at how the likely siege of a small enclave adds fuel to the fire of already-strained US-Turkey ties, and how America's policy of developing bonds with groups at odds with one another is leading to failure for Washington in Syria and beyond.
Turkey's likely military plans
Not much is known about Ankara's exact strategy of capturing Afrin, but a ground offensive seems to be the backbone of Turkish plans. Over the past week, tanks, infantry fighting vehicles and self-propelled howitzers have been arriving to the border areas inside Turkey, according to Turkish press reports. Notably, the army has deployed signal jammers, which indicates the intervention might also include electronic warfare.
However, it will not be the Turks themselves that lead the fight. In its previous operations on Syrian soil, Ankara heavily relied on pro-Turkish rebels who made up most of the manpower to fight against the Kurds. This time promises to be no different. On Tuesday, when asked if Syrian rebels would be involved in the Afrin operation, Turkish President Recep Tayyip Erdogan said: "Of course they will, together. This struggle is being conducted for them. Not for us."
Some Turkish media suggested that the offensive will start with airstrikes on 149 targets of the Kurdish People's Protection Units (YPG), with the air raids involving fighters and drones. Haberturk reported, citing military forces, that Afrin and the adjacent areas have been monitored for several weeks by Turkish special forces, who will also be taking part in the offensive.
'Capturing Afrin is no easy task'
Meanwhile, experts have expressed doubt that Turkish military's operation to enter Afrin will be an easy ride. Grigory Lukyanov, professor of the Moscow-based Higher School of Economics, told RT by phone that some of the Turkish Army's most battle-hardened officers were expelled from the military or persecuted after the failed 2016 coup, and such "cleansing of the ranks" might have weakened the armed forces. "The Euphrates Shield offensive has shown that Turkish military leaders… have little experience in conducting complex operations involving combat aircraft, ground forces and heavy armor," Lukyanov said.
While the army has no shortage of ammunition and manpower, Lukyanov said it still lacks personnel able to operate systems such as drones and manned aircraft. Previous Euphrates Shield offensives came at a high cost for the Turkish military, Lukyanov added, as large numbers of soldiers were killed or injured, and multiple armored vehicles were destroyed beyond repair.
The Kurds, for their part, have managed to build up a reliable fighting force, having received training and modern weapons from the US, Lukyanov said, adding that the combat experience that Kurdish militias have accumulated during their fight against Islamic State makes them a "near-peer opponent" of the Turkish forces.
Russia quiet, Turkey puzzled
Though a ground offensive seems the safest option for Turkish military planners, it certainly won't be without air support. The Turks cannot afford a high number of casualties among their troops, which makes airpower a game changer in the Afrin invasion.
In addition, the Kurdish enclave lies close to Russia's Khmeimim Airbase, and Moscow's attitude towards the Afrin operation is probably the trickiest question for Ankara. The airbase is protected by sophisticated S-400 air defense systems, and the adjacent province of Idlib, including Afrin itself, is certainly within reach of its surface-to-air missiles.
However, Igor Korotchenko, Russian military expert and editor-in-chief of 'National Defense' magazine, says S-400s are deployed to protect the airbase against enemy intrusion, and have nothing to do with covering other parts of Syria. "When it comes to some missions of foreign aircraft in Syria's airspace, this is the area of responsibility of Syria's air defense forces, not Russia's," he said.
Moscow has generally been wary of Turkish actions in the north of Syria, urging respect for the war-ravaged country's territorial integrity. But to stay on the safe side this time, Ankara needs to keep the Russian military updated on every step it takes, and do its utmost to avoid dangerous incidents.
In recent days, Russia has been noticeably quiet on Turkey's plans to invade Afrin. The only official statement was that of Foreign Minister Sergey Lavrov, who urged on Monday for people to refrain from coercive actions and move to the negotiating table. "Indeed, the Kurds are part of the Syrian nation," he told a news conference. "Their interests must be taken into account."
In the meantime, as Turkey amasses troops and armor along the border, the Kurds are far from sitting idle. Kurdish militias, many of them trained by American instructors, have been honing their combat skills and receiving considerable arms supplies from abroad. And this is where the US comes into play.
Friendly foes: America between Turkey & the Kurds
Washington's Kurdish policy has been ambiguous since the start of the US-led anti-IS operation. On one hand, the US has designated the Kurdistan Workers' Party (PKK), which has been fighting the Turks since the mid-1980s, a terrorist organization – as has the European Union and Turkey itself.
On the other hand, the US cultivated ties with Syria's Kurdish YPG militia, despised by Ankara. YPG fighters proved effective in the fight against IS and Syrian government forces, and the group – which was set up by the Syrian Kurdish Democratic Union Party (PYD) – quickly became America's key ally on Syrian soil.
And here is where it gets even more interesting – the US maintains that Turkey has the right to suppress the "terrorist" PKK, while at the same time siding with the YPG.
To make things worse, the Pentagon has launched a training program for Kurdish and Arab border guards in Syria to prevent the resurgence of IS. Details of the initiative soon came to light, with the US-led coalition unveiling a plan to set up a 30,000-strong "border force" on the basis of Syrian Democratic Force (SDF) veterans, who are set to make up half of the recruits.
The move caused predictable outrage in Ankara, with Erdogan promising "to drown this terrorist force before it is born." The army of "traitors" that Washington seeks to create will point their guns against US troops at the first threat, Erdogan cautioned. Separately, Turkey raised the issue with NATO, demanding that the military bloc take action against the creation of the "terrorist army."
Fueling the unfolding spat, Turkish Foreign Minister Mevlut Cavusoglu "bluntly told" US counterpart Rex Tillerson this week that the step"could threaten our bilateral ties and could lead us down an irreversible route."
Some Turkish politicians have even called to ban the US Air Force from using Incirlik Airbase until the Pentagon ends its alignment with the Syrian Kurds. Dogu Perincek, leader of the left-wing Vatan Party, suggested that the American troops from Incirlik be removed and cooperation with Russia and Iran be forged "to deter the United States."
READ MORE: Erdogan demands NATO take stand on US-backed Syrian Border Force
Notably, major Turkish media have also followed suit, ramping up rhetoric over the US presence in Syria, with leading newspaper Hurriyet writing in an opinion piece: "Is the US army ready to open fire on the Turks if the Turks open fire on forces that the US also once recognized as terrorists?""Is this not a move that could lead to a de facto division of Syria and open another Cold War-era style politics, Mr. Trump?"
Afrin operation: Lose-lose for US
The US currently has an estimated 2,000 troops on the ground in Syria which were deployed without an invitation from Damascus or mandate from the UN Security Council. American soldiers were embedded with YPG forces taking part in a major offensive to capture the city of Raqqa from Islamic State last year.
As the outrage mounted, the Pentagon quickly backtracked on its support for the YPG or the Kurdish border force. "We don't consider them as part of our Defeat ISIS operations which is what we are doing there and we do not support them," Pentagon spokesman Major Adrian Rankine-Galloway told the Turkish state Anadolu news agency. "We are not involved with them at all," the military official reiterated, adding: "There is no train, advise and assist program going [on] in Afrin."
On Wednesday, the Pentagon tried to downplay the significance of the 30,000-strong Kurdish force. "The US continues to train local security forces in Syria," it said. "This is not a new 'army' or conventional 'border guard' force." The US military is "keenly aware of the security concerns of Turkey, our Coalition partner and NATO ally," the statement added.
Washington's statements seem to have had little effect on Ankara's plans. Chairing a four-hour National Security Meeting on Wednesday night, President Erdogan said Turkey will never allow the creation of "a terrorist army" in Syria. "It is regrettable that a state, which is part of NATO and our ally in bilateral relations, declares the terrorists as its partner and provides them with weapons, without any concern for our safety," the Turkish leader said. He also demanded that weapons and equipment supplied to the YPG "be collected without delay," adding that Turkey is losing patience.
The troops fully deployed along the Turkish-Syrian border are still awaiting the signal to move, providing a small window of opportunity to find a peaceful solution to the Afrin knot.
READ MORE: Turkey vows to 'eliminate any threat' after US announces Kurdish border force in Syria
But will the Trump administration be able to pacify the Turks, calm down the Kurds and persuade the two to sit down and talk? Given the absence of a clear American strategy for the Middle East, the answer is probably 'no'.
Indeed, it is chaotic, ambiguous and inarticulate US policy which is causing America to lose on every front in the region. A NATO partner engaging in an all-out war on your regional ally is a clear sign that something has failed in your foreign policy.
Why else would your friends become enemies?