Just married: Kim Dotcom posts wedding day pics (PHOTOS)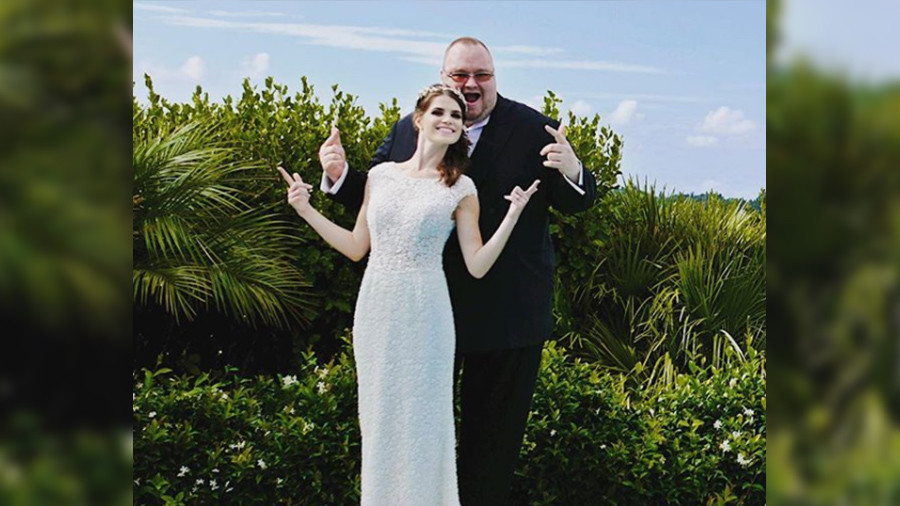 Intransigent Internet Icon KimDotcom has published the pictures from his wedding ceremony, which was held in an undisclosed location. While the couple looks truly adorable, Kim's fluffy best 'man' looks even cuter.
Meet the happy just-married couple Kim and Liz Dotcom (nee Elizabeth Donnelly), smiling in wedding photos posted on their social media accounts on Saturday. Apart from the bride and groom the ceremony was attended by Kim's best 'man' – four-legged fluffy Toby Dogcom. The canine was certainly dressed for the event, wearing a black bow tie.
The Internet entrepreneur, who created the now-defunct file-sharing website Megaupload, also noted that the special day coincided with an unhappy anniversary. On January 20, 2012 his mansion was raided by armed New Zealand police for a non-criminal claim of secondary online copyright infringement. The German-born entrepreneur has been resisting extradition to the US ever since.
READ MORE: Bitcoin billionaires & privacy crusaders: Tech leaders to follow in 2018
In 2016, the self-proclaimed internet freedom fighter vowed to create Megaupload 2 and a new bitcoin payment system, Bitcache, and a year later he made good on his promise. The idea behind these online applications is to allow the uploading of content and its sale directly to users, through transactions in the cryptocurrency bitcoin. Dotcom has referred to Bitcache as the innovation to take "bitcoin to the mass market" and "ultimately replace credit card payments on the internet."
Think your friends would be interested? Share this story!
You can share this story on social media: