'Andres Manuelovich?': Mexican presidential hopeful laughs off Russia links (VIDEO)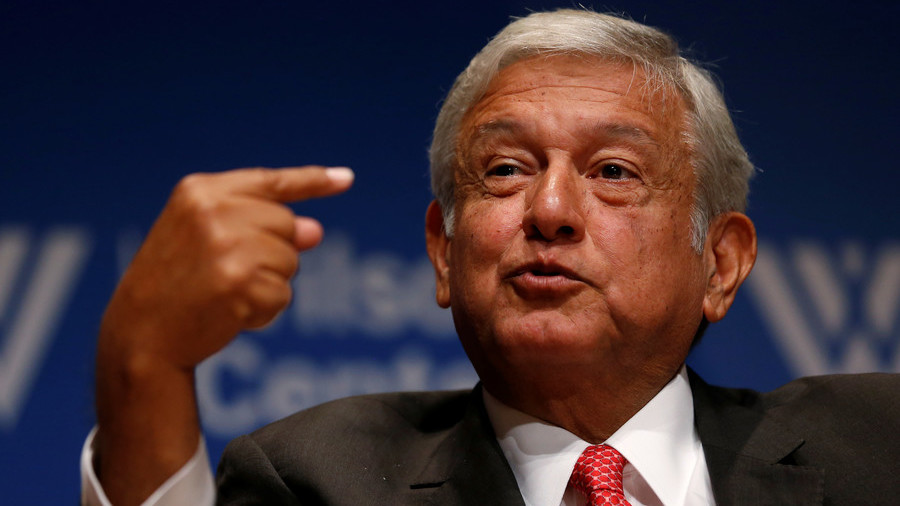 Mexican presidential candidate, Andres Manuel Lopez Obrador, has laughed of suggestions that his campaign may be backed by everyone's favorite bogeyman – the Russians.
The perennial leftist candidate responded to claims that his campaign may have Kremlin backing by releasing a satirical online video. The allegations were made Wednesday by a spokesman for rival candidate, Jose Antonio Meade.
The former mayor of Mexico city, who is also known as "Peje" after a thin-skinned fish found in his native state of Tabasco, and the acronym AMLO, decided the best weapon to use against his detractors was comedy.
In the short video, which has so-far been viewed over 380,000 times, Lopez Obrador looks out to sea where he says he is waiting for a Russian submarine, laden with gold from Moscow, to surface. Grinning to the camera he says "I am no longer 'Peje,' now I'm Andres Manuelovich."
It appears there's no end to the Russophobia which has gripped the world since the election of Donald Trump as US president. Mexico is the Kremlin's latest target – at least according to US National security adviser H.R. McMaster, who in December said he had seen "initial signs of it (Russian meddling) in the Mexican presidential campaign already."
READ MORE: Russia-Mexico ties are warm… even without election meddling – Lavrov jokes in RT interview
McMaster's claims were dismissed by the director of Social Communication and spokesperson for the Presidency of Mexico, Eduardo Sanchez Hernandez, who declared: "There is no evidence of Russian interference in the Mexican electoral process."
Lopez Obrador, maintains a strong lead in opinion polls ahead of the July poll. His critics have compared him to the late Venezuelan president Hugo Chavez, claiming that he will attempt to instigate a socialist revolution in Mexico.
You can share this story on social media: