Kiev's new 'sovereignty law' may be preparation for war – Moscow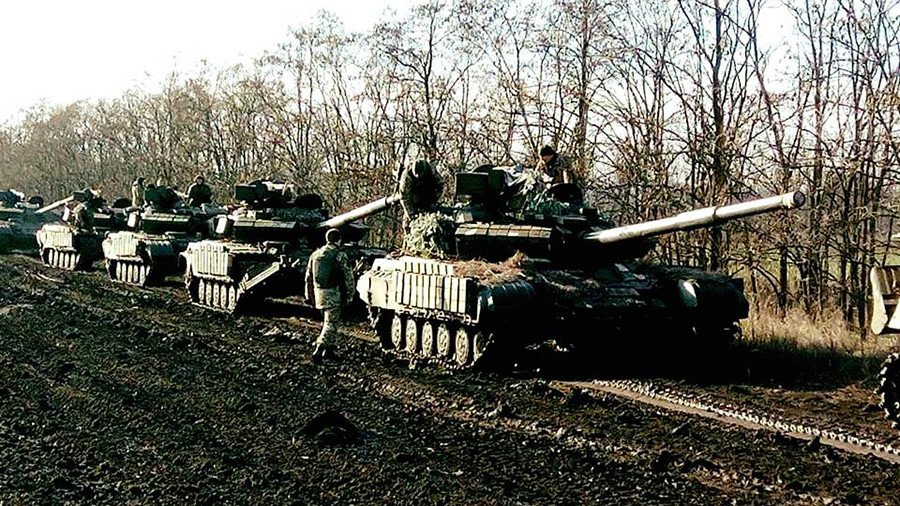 The newly-adopted Ukrainian law on 'restoring sovereignty over the Donetsk and Lugansk regions' shows that Kiev is determined to resolve the conflict in eastern Ukraine by force, the Russian Foreign Ministry said.
The law grants Ukrainian President Petro Poroshenko "unlimited powers to silence dissent, similar to those of a dictator," the Russian Foreign Ministry said. "It cannot be described otherwise than as preparation for a new war," it added.
The law calls Russia an "aggressor" and defines the authorities of the self-proclaimed Lugansk and Donetsk People's Republics as "occupying administrations." The ministry said the law constitutes Kiev's attempt to shun responsibility for the destruction of eastern Ukraine and the suffering of its people wrought by the Kiev-launched military operation. The Ukrainian government prefers seeking to shift the blame to Russia, the ministry added.
The new law also disregards the Minsk Agreements that had been universally recognized as the basis for the resolution of the Ukrainian conflict, with no alternative. The legislation in fact would not lead to any "re-integration" of eastern Ukrainian territories but would instead only deepen the rift in Ukrainian society and push the people of Donbass further away from Kiev, the ministry argued.
The move taken by Kiev does not only violate the Minsk Agreements but also destroys the whole international mechanism of the Ukrainian conflict resolution, including the Normandy Four format, the statement said. It also warned that Kiev's actions could lead to a "dangerous escalation" of hostilities in Ukraine that would have "unpredictable consequences for international peace and security."
The law declares the self-proclaimed republics in eastern Ukraine "temporarily occupied territories" and gives the Ukrainian president the right to deploy the armed forces for the sake of "ensuring [Ukraine's] sovereignty" over certain territories without declaring a war or a state of martial law.
It allows Kiev to charge all people currently working in the administrations of the self-proclaimed republics with criminal offenses. The legislation also says that the Ukrainian government does not recognize any documents issued by the authorities of the self-proclaimed republics, except for birth and death certificates.
Crimea is also mentioned in the document as a "temporarily occupied territory," even though it joined Russia in 2014 following a referendum, in which more than 96 percent of Crimean residents voted in favor of the move.
Poroshenko said following the adoption of the law that the legislation showed that Crimea and the eastern Ukrainian regions are "an integral part of Ukraine.""This is a signal for Crimea and for Donbass: you are an indispensable part of Ukraine," he said, adding that the law was passed on his initiative.
Ukrainian politician Viktor Medvedchuk, who represents Kiev in the humanitarian subgroup at the negotiations in Minsk, said that the legislation "puts an end to the attempts to peacefully resolve" the conflict in eastern Ukraine. He also denounced the law as a "fanciful, crazy and absolutely unfeasible set of dreams about forcibly taking back [the] territories [of eastern Ukraine and Crimea]."
You can share this story on social media: