At least 2 dead, 14 injured as explosion causes building collapse in Antwerp, Belgium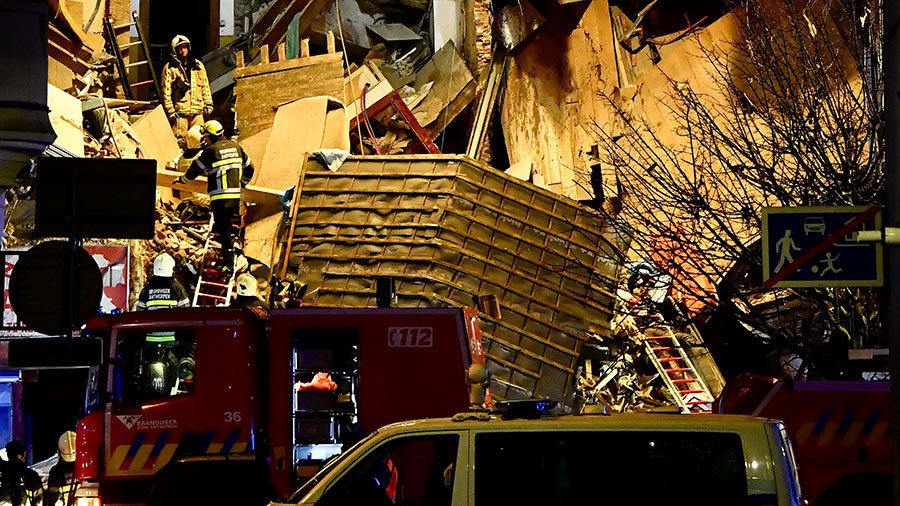 At least two people have been killed and 14 injured after an explosion caused damage to a number of buildings in Antwerp, Belgium. Police believe the incident is not terrorism related.
At least one building collapsed after an explosion rocked the Paardenmarkt area in Antwerp on Monday night. The explosion at the Italian restaurant Primavera was so powerful that it caused damage to three buildings.
Firefighters have recovered two corpses from the rubble so far, Antwerp police confirmed on Twitter on Tuesday morning. Two more people remain missing, police said, adding that they probably remain trapped in the rubble.
At least 14 people were injured in the explosion, police said on Twitter. Five of the victims are in a serious condition while another person remains critical. Another eight people suffered slight injuries. Earlier police tweeted that "10-20 victims" were initially trapped under the debris.
Rescue teams deployed canine units and ladder trucks to sniff out and locate the victims. Some seven hours after the initial tragedy, rescue teams continue to search for the remaining victims still trapped beneath the debris. "The debris is currently very unstable and that makes the rescue difficult," the fire department tweeted earlier.
Authorities have launched an investigation into the cause of the blast, which happened shortly after 9:30pm local time. While the cause of the blast has not yet been established, police say the explosion was "certainly not about terrorism." With terrorism ruled out, the incident was most likely caused by a gas explosion. The Paardenmarkt is located in the center of Antwerp and is known as the city's student hub.
READ MORE: At least 75 injured as floor collapses at Indonesian Stock Exchange (PHOTOS, VIDEO)
You can share this story on social media: