At least 75 injured as floor collapses at Indonesian Stock Exchange (PHOTOS, VIDEO)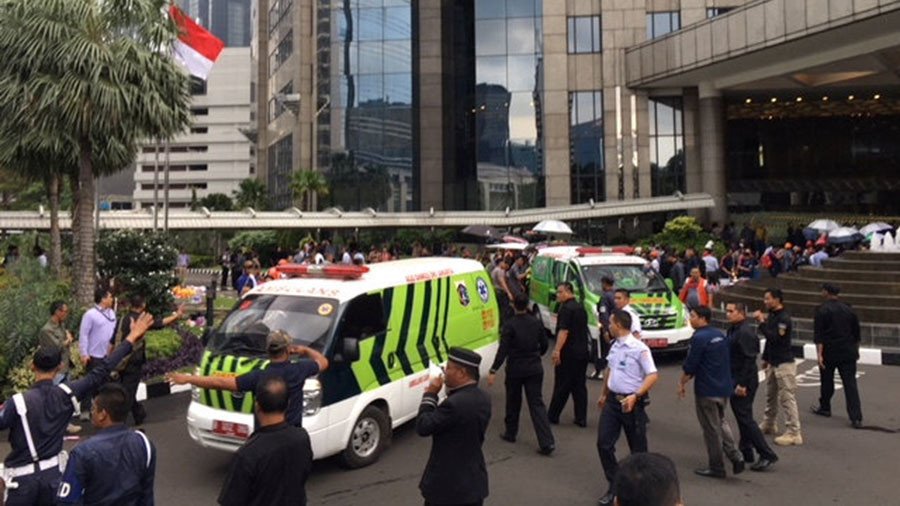 Seventy-five people were injured when the floor of the Jakarta Stock Exchange collapsed, Indonesian National Police spokesman Setyo Wasisto told AFP. Hospital figures put that number at 77.
Dramatic photos on social media showed the aftermath of the collapse, with victims lying on the ground outside the complex. Other pictures showed glass and metal debris inside the building.
"I saw many people bleeding," student Rizki Noviandi, who was taking part in a competition inside the building, told Metro TV. "So many people were carried out of the building and were left on the grass outside... until the ambulances arrived."
The incident occurred after a mezzanine floor of the building crashed into the lobby. Wasisto said the collapse was an accident, and not the result of an explosion.
"Our search and rescue teams, the police, doctors, the firefighters are all still working," Wasisto said. "They are cleaning the debris and also searching for other possible injuries."
Information released by five local hospitals put the number of people injured at 77, AP reported. They mostly sustained injuries to their legs and arms, including broken bones, a spokesman for one local hospital told AFP.
Hundreds of employees were evacuated from the complex, which was the target of a car bomb attack by Islamist militants in 2000. At least 10 people were killed and dozens injured in that attack.
Despite Monday's incident, trading continued as usual in the afternoon session.
You can share this story on social media: