Clashes, arrests as police break up 'unauthorized' neo-Nazi protest in Sweden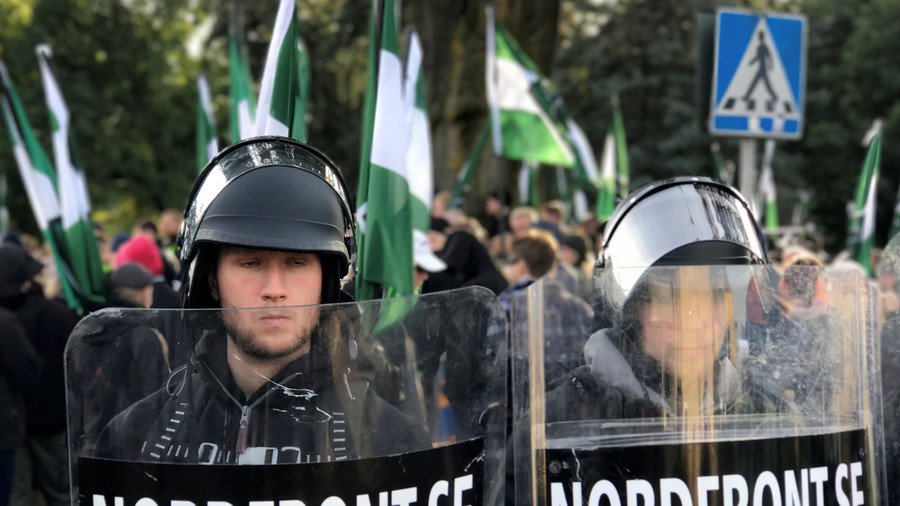 At least 15 neo-nationalists were reportedly arrested in Gothenburg, Sweden, after an unauthorized demonstration resulted in clashes with counter-protesters. Two people were injured, according to local media.
The neo-Nazi gathering, organized by the Nordic Resistance Movement (Nordiska Motståndsrörelsen, NMR), took place Saturday afternoon. NMR members carried banners and distributed leaflets during the city center event.
The group, which was registered as a political party in Sweden in 2015, posted several images of Saturday's demonstration on its Twitter account.
Police say they broke up the march as the gathering was unauthorized. Counter-protesters also arrived on the scene, sparking a confrontation between the two groups.
"We have 15 confirmed [arrests] at the moment, but I would say that it is closer to 20 people," police spokesperson Hans Lippens told Aftonbladet.
Two counter-demonstrators was also arrested, reported Göteborgs Posten, and two others were injured. The condition of the injured is unclear, but an ambulance was reportedly called to the scene.
Prior to the event, in the early hours of Saturday, police pulled over four vehicles with NMR supporters. A number of flares and fireworks were confiscated from one vehicle, while a knife was confiscated during another vehicle search.
READ MORE: Dozens of neo-Nazis arrested after violent clashes in Sweden (PHOTOS, VIDEOS)
In September last year, NMR held a large demonstration involving hundreds of its members in central Gothenburg. The group's spokesperson, Pär Öberg, said at the time that this would likely be the last time they would ask for permission to demonstrate. Dozens of neo-Nazis were arrested after violent clashes at the rally.
Meanwhile last July three men who had connections to the group were jailed for a series of bombing incidents in Gothenburg.
You can share this story on social media: