Dozens of neo-Nazis arrested after violent clashes in Sweden (PHOTOS, VIDEOS)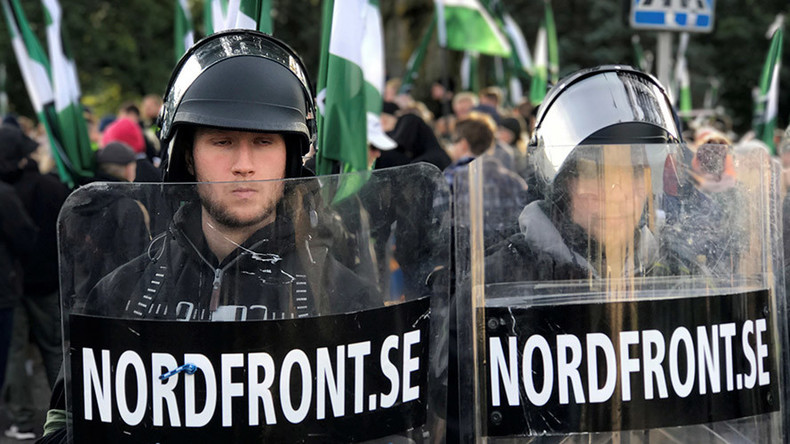 Up to 30 people were arrested during a march by neo-Nazi group the Nordic Resistance Movement (NRM) in Gothenburg, Sweden, after the demonstration turned violent.
NRM members and anti-fascist activists clashed with police on Saturday as hundreds of neo-Nazis, dressed in white shirts, green ties, and black slacks, attempted to march through the city, Reuters reports, citing police sources.
One police officer and one civilian suffered minor injuries during the confrontations according to preliminary reports.
Clashes erupted when the roughly 500-strong NRM group, prevented from reaching their licensed gathering point by thousands of counter demonstrators, tried to break through police lines along their allotted route.
Expressen reports that the neo-Nazis attacked several journalists with bottles and their NRM emblazoned riot shields.
Several NRM members, including leader Simon Lindberg, were arrested amid the scuffles that followed, according to local media reports. A number of counter-demonstrators were also among those detained after they also clashed with police.
Having refused to leave the city center for most of the afternoon, the NRM, following a conversation with police, returned to the area where they initially convened outside the city center.
"We have had a dialogue with them, buses were an option. But it's better to go back to the same place," Expressen quotes police spokesman Hans Lippens as saying.
The arrests follow several others made on Friday, when seven foreign nationals were detained in the city on suspicion of planning violent acts. Swedish police also strengthened several border crossings as they were "counting on chaos."
"The police reinforced certain border crossings due to information that foreign citizens plan to travel in Sweden with the intention of interfering with order and safety at the Göteborg demonstrations. The police have also requested reinforcement of Norwegian police at border crossings to Norway," police said as cited by Aftonbladet.
The demonstration outraged Sweden's Jewish population, as it was held on the Jewish holiday of Yom Kippur, and its original route would have seen the NRM march past a synagogue in Sweden's second largest city. However, following a court ruling last week, the march was re-routed and shortened.
READ MORE: Swedish Jews outraged after authorities permit neo-Nazi march near synagogue on Yom Kippur
Described as a National Socialist organization – which is also active in Finland, Norway and Denmark – the NRM has a history of such marches. A May Day march by the group was met with strong opposition by anti-racists in the city of Falun.
Last November, dozens of people were detained as demonstrators clashed with each other other and police in central Stockholm.
READ MORE: Clashes, arrests in Stockholm at neo-Nazi march & counter-rallies (PHOTOS, VIDEO)
Last year, a report by the Swedish anti-racism group, Expo, found that the NRM was mobilizing and recruiting new members.
The report also highlighted the group's penchant for violence, saying that out of the 159 active members they studied, 26 percent had been charged with violent crimes or weapons offenses in 2015 and that 56 percent had been convicted of a criminal offense at some point in their lives.
You can share this story on social media: