'Taking the piss': Internet erupts after Ikea asks pregnant women to pee on crib ad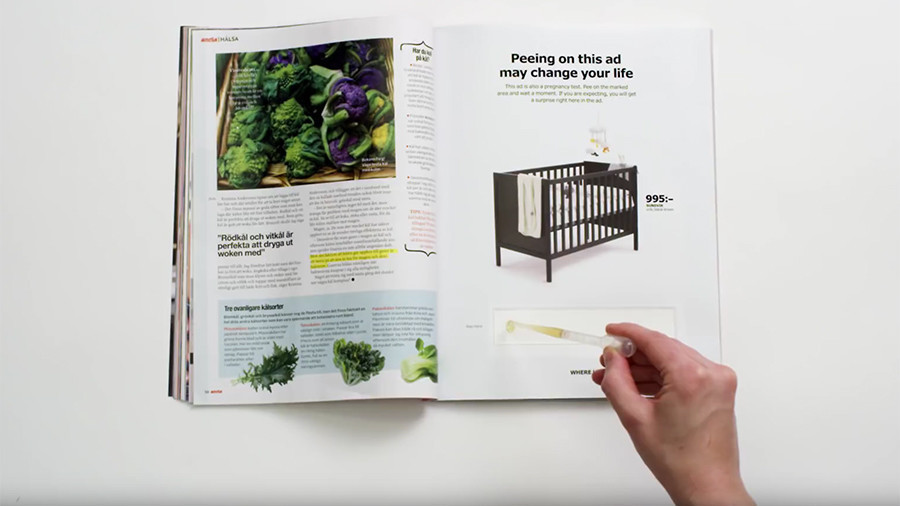 The internet has reacted in disgust, amusement and confusion after Ikea launched an ad encouraging women to pee on it. If they're pregnant, a discounted price for a crib magically appears.
The retailer revealed the ad, which features in the store's Swedish catalog, in a video released on Tuesday. The clip was aptly titled "Pee on this ad."
"This ad can change your life as you know it," the opening sentence states. "Follow the instructions and simply pee on the marked area," the video continues.
If the person peeing on the ad is pregnant, a "family price" will appear, allowing them to purchase a Sundvik crib at a large discount. The ad, which is currently available only in the Swedish catalogue, has unsurprisingly solicited a strong response from people who are intrigued, disgusted and everything in between.
Many tweeted that Ikea was "literally taking the piss."
One person reacted with a simple - but probably fair - "what the f**k, Ikea?"
Another noted the point that Ikea probably didn't run the promotion by their employees, as cashiers are apparently going to have to handle "urine soaked catalog pages" when pregnant customers bring their ads into the store.
One person joked about the conversation that must have taken place during the brainstorming session for the ad.
Another individual quipped that she couldn't wait for Ikea's "discount toilet ad to debut," seemingly implying that such an ad would likely encourage customers to, erm, poop on it.
Others, however, were more enthusiastic about the unconventional advertisement.
The ad even made it onto the Jimmy Kimmel Live! television show in the US. "Allow me to present what is either the most creative or repulsive ad for baby furniture of all time," the late night talk show host said, before playing a clip of the Ikea video.
The concept works in basically the same way as a traditional pregnancy test, reacting to hCG hormone, which is found in pregnant women. However, Ikea did seek outside help from Swedish chemical manufacturer Mercene Labs in order to "scale up the technology" and "make it work in the format of a printed ad," Felix Östman from Ikea Sweden's press department told The Local.
You can share this story on social media: