N. Korea bombs only aimed at US, not at southern brethren, China & Russia - chief negotiator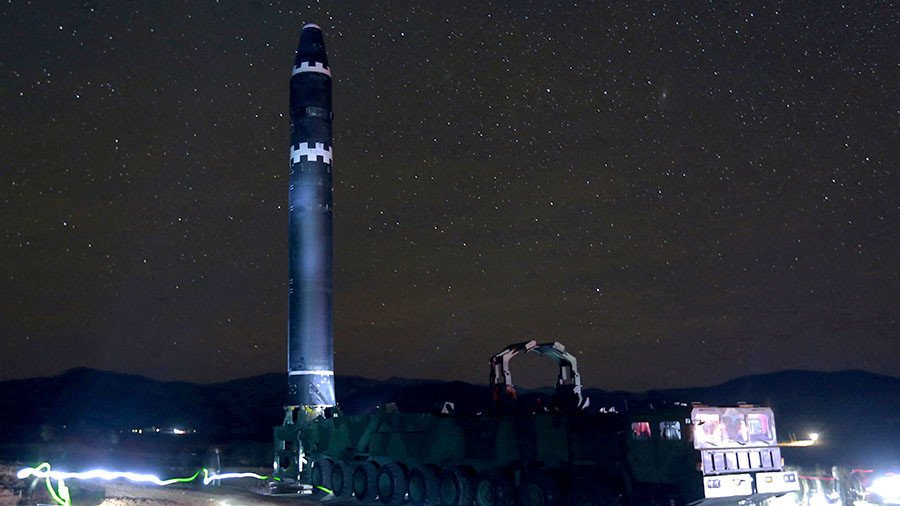 North Korea's bombs and missiles are only aimed at the US, Pyongyang's chief negotiator says. He said there was no reason to raise the issue of nuclear weapons during talks with the South.
"All our weapons including atomic bombs, hydrogen bombs and ballistic missiles are only aimed at the United States, not our brethren, nor China and Russia," the chairman of the North's Committee for the Peaceful Reunification of the Fatherland, Ri Son Gwon, said during a joint statement with South Korea on Tuesday.
He went on to state that nuclear weapons would not be discussed in talks with Seoul, since they are only aimed at the United States. "This is not a matter between North and South Korea, and to bring up this issue would cause negative consequences and risks turning all of today's good achievement into nothing," said Ri.
Ri's remarks came after North and South Korean officials held 11 hours of talks, ultimately resulting in the two sides agreeing to hold negotiations to resolve problems and avert accidental conflict. It marked their first official dialogue in more than two years, amid increased tensions over Pyongyang's nuclear program. The North did, however, make a "strong complaint" regarding Seoul's proposal to denuclearize the Korean peninsula during the joint statement on Tuesday.
North Korea's claim that its weapons are indeed aimed at the US are nothing new. In his New Year speech, North Korean leader Kim Jong-un said "the entire United States is within range of our nuclear weapons, and a nuclear button is always on my desk." That remark prompted US President Donald Trump to respond by saying that he too has a nuclear button - one that is "much bigger," "more powerful," and actually works. That tweet, like many of Trump's online interventions, was met with anger from critics across the globe.
North Korean Leader Kim Jong Un just stated that the "Nuclear Button is on his desk at all times." Will someone from his depleted and food starved regime please inform him that I too have a Nuclear Button, but it is a much bigger & more powerful one than his, and my Button works!

— Donald J. Trump (@realDonaldTrump) 3 января 2018 г.
Pyongyang has consistently boasted about its nuclear and ballistic missile capabilities, claiming after its November launch of a Hwasong-15 that the intercontinental ballistic missile (ICBM) was capable of hitting the entire US mainland. Following the launch, US envoy to the UN Nikki Haley warned that North Korea would be "utterly destroyed" if a war were to break out between Washington and Pyongyang.
READ MORE: Trump ready to speak to Kim under certain conditions
Following Haley's statement, Russian Foreign Minister Sergey Lavrov said such remarks - along with regular military drills in the region - only serve to provoke Pyongyang. Both Moscow and Beijing have backed a so-called "double freeze" program which would see the US suspend drills with Seoul in exchange for Pyongyang halting its missile and nuclear tests. That plan was swiftly rejected over the summer by Washington, which claims it has the right to conduct exercises with its ally South Korea.
You can share this story on social media: