17yo Argentine 'Rapunzel' grows hair to Guinness record-breaking length (VIDEO)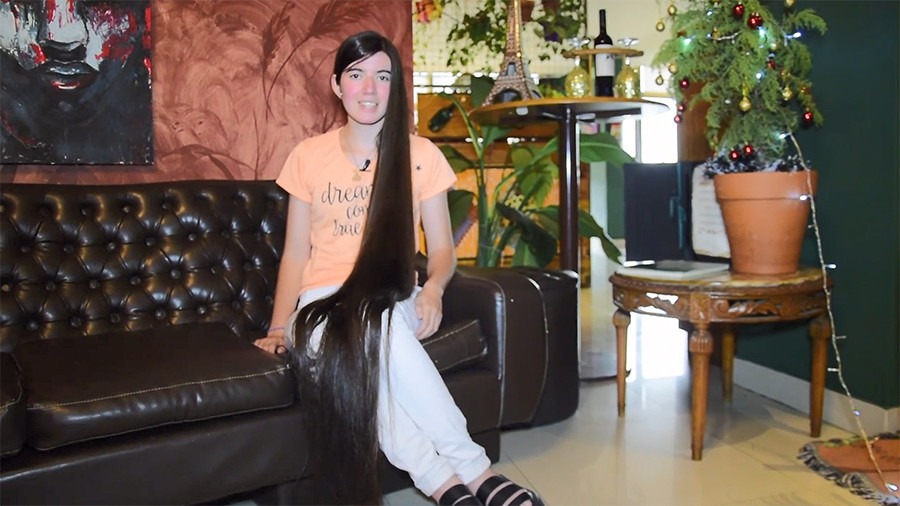 A 17-year-old Argentine, nicknamed 'Rapunzel,' has been crowned the world record holder for the longest hair for a teenager by Guinness World Records. The length of Abril Lorenzatti's hair is 1.52 meters (nearly 5ft).
Brushing her hair is a workout. Lorenzatti says she hasn't had her hair cut for 10 years, after being freaked out by a bad haircut experience in her home town of Villa Carlos Paz, in Cordoba.
One day, after watching Danny DeVito comedy 'Matilda,' based on a novel by Roald Dahl, Abril decided to ask the hairdresser to make her hair look just like that of the film's young star.
"The next day when I saw myself again in the mirror I did not like what I saw. It was very short, so I decided to let it grow and not cut it again – not until it is very necessary or I really want to make a change. After four years I had it quite long again so people have since called me 'Rapunzel' or 'The girl with long hair.' During all these years I only cut my ends," she said.
Some consider long hair to be commonplace. Not in Abril's case, of course. Her silky hair is a magnet for curious strangers.
"In the street they usually stop me to ask questions like how long I haven't cut my hair, if I plan to cut it off, if it's a promise and things like that, I also get called 'Rapunzel' sometimes or hear 'Rapunzel, let down your hair,'" the girl told RT's Ruptly video news agency.
With all the attention, the girl says she was very excited to enter the record books because she did not actually think her "hair could be considered for such an important recognition. This experience has left me with a beautiful memory and the satisfaction of being part of Guinness World Records. I am extremely grateful for this great honor."
Apart from being a source of pride, long hair can also be a pain, Abril says. She says she has to lift her hair when walking up a flight of stairs, and puts it behind for others not to step on the ends when going down.
One thing she still finds it hard to deal with is the wind, with her long hair flowing around in her face. "It can make my hair uncontrollable and so I have to wear it in braids."
You can share this story on social media: