Nepalese teen makes Guinness World Records by kicking his own head 134 times in a minute (VIDEO)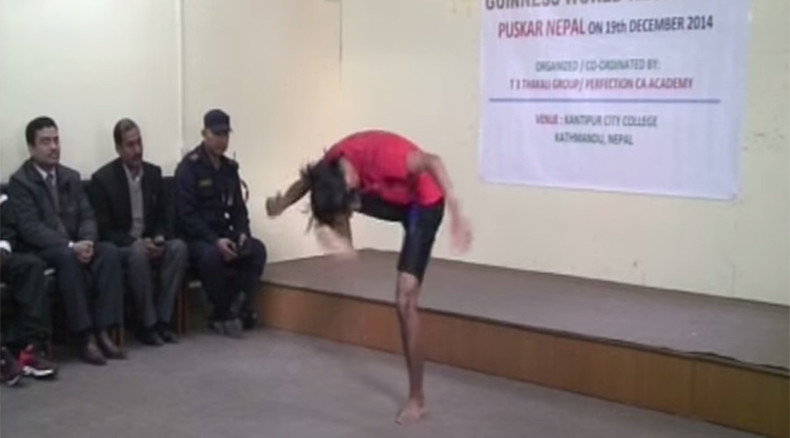 Some people will go to incredible lengths to become famous – even if that journey is a painful one. A Nepalese teenager landed himself in the Guinness World Records after kicking himself in the head 134 times in a minute.
"I wanted to enter the record books. I learned some years back that there was a category for self-kicking the forehead. I chose it and focused on getting my act together," student Puskar Nepal told Caters News.
He took his "training" very seriously, saying he "practiced very hard for eight, nine months so that my body stayed flexible because the act needs to have me bend over for a minute."
Nepal even devised a technique which allowed him to alter his kicks, delivering blows to his head with both feet. His method is introduced at 1:52 in the above video.
Unsurprisingly, Nepal's family was concerned for his well-being as he attempted to make history.
"Many of my friends and family were also worried that I might injure myself while doing this. But as you can see, despite getting so many kicks, I did not even get a scratch," he said.
Nepal accomplished his painful goal in December, and received his official Guinness certificate this week.
"Breaking a world record has always been a dream for me and now it is fulfilled," Nepal said.
The previous record holder, Joel Leindecker of the US, had managed to kick his noggin 127 times in one minute.
You can share this story on social media: