Planes collide on Toronto runway causing fire & evacuation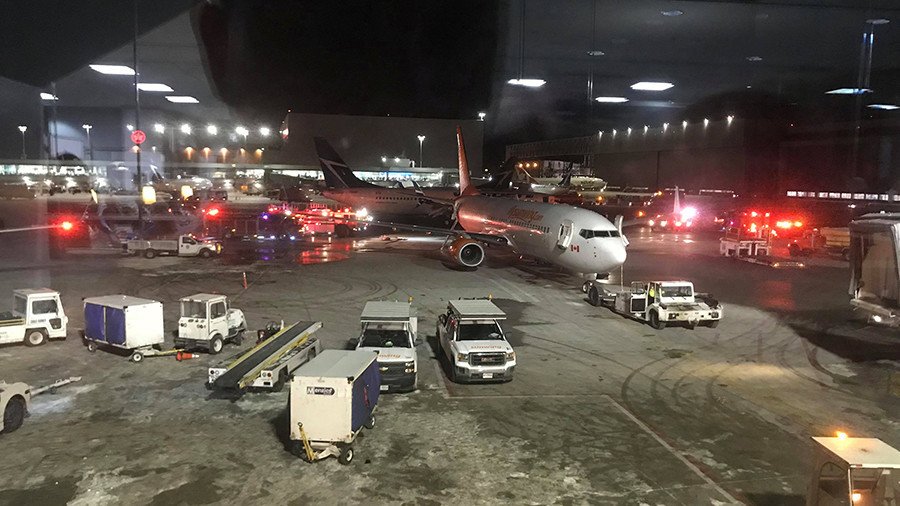 Two planes have clipped each other on the runway at the Toronto Pearson airport, local media report. The incident sparked a fire and triggered an evacuation.
The two airplanes involved are operated by Sunwing Airlines and Wesjet. The collision saw one plane's wing crashing into the others tail.
Fire crews rushed to the scene as the Sunwing aircraft caught fire. The 168 Wesjet plane passengers and six crew had to be evacuated via emergency slides. No injuries have been reported.
Toronto Pearson International Airport confirmed the accident on its tarmac in a tweet, later stating that "some flight operations at Terminal 3 have been impacted."
There has been an aircraft incident involving two aircraft on the Terminal 3 apron. Fire and emergency services have responded and passengers have been evacuated. More details to come.

— Toronto Pearson (@TorontoPearson) January 6, 2018
Eyewitnesses and affected passengers have been posting pictures of the collision on social media.
The crash happened when the Sunwing craft, without passengers, was backing out from the gate, local media report.
The incident occurred on a night when Toronto broke an almost 60-year record of cold weather, dipping to -23 degrees Celsius (-9.4 Fahrenheit). The 1959 low stood at -20.6 C.
You can share this story on social media: