Stolen €1.3mn gold-plated vodka bottle found empty at building site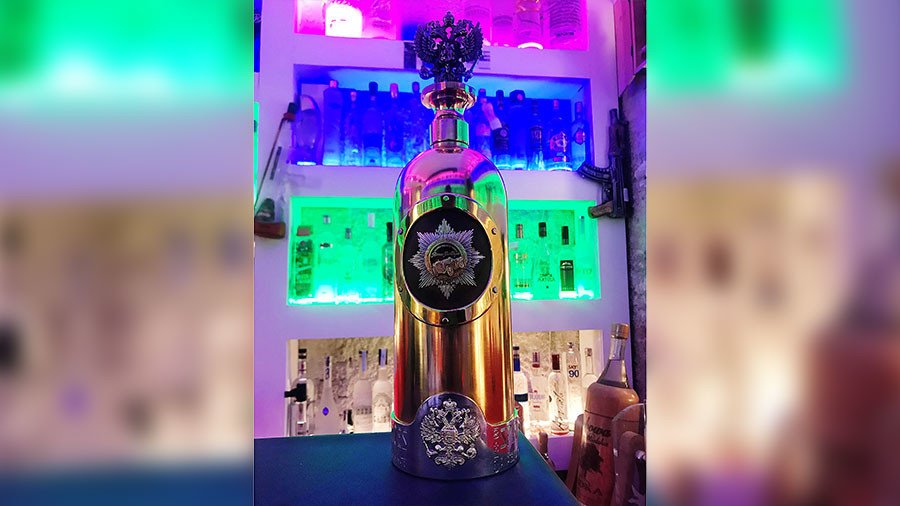 A €1.3 million vodka bottle, said to be the world's most expensive, has been recovered at a building site in Denmark. While the stolen bottle is intact the contents has been downed.
The one-of-a-kind bottle, made from 13lb (6kg) of gold and silver mixed together with a diamond studded cap, was reported stolen from Cafe 33 in Vesterbro, Copenhagen Tuesday night.
READ MORE: Gold plated vodka bottle worth €1.3million snatched in raid at Denmark bar (PHOTO)
The Russo Baltique vodka bottle, famous for its appearance in the Netflix TV series 'House of Cards,' was recovered intact Friday, according to Copenhagen police.
The bottle is now in the possession of the police after a member of the public found it on a building site in Charlottenlund – a suburban area on the coast, 10km (6 miles) north of Copenhagen.
Copenhagen police thanked the person who located it and said the theft would be investigated, adding it had no further comment at this time.
Brian Ingberg, owner of Cafe 33 told RT.com that he was delighted the bottle was found and expects to be reunited with it on Monday.
"I will be sleeping with it under my pillow," he joked.
Although all the alcohol was drunk Ingberg says he is just happy the exquisitely ornate bottle was not damaged. "The bottle is the most valuable," he said.
After the initial theft, Ingberg told RT.com that, out of 1,200 bottles in his vodka museum, this was the only one stolen.
CCTV footage of the incident was shared online by the owner of the Russo-Baltique brand Dartz Motorz Company.
You can share this story on social media: