Gold plated vodka bottle worth €1.3million snatched in raid at Denmark bar (PHOTO)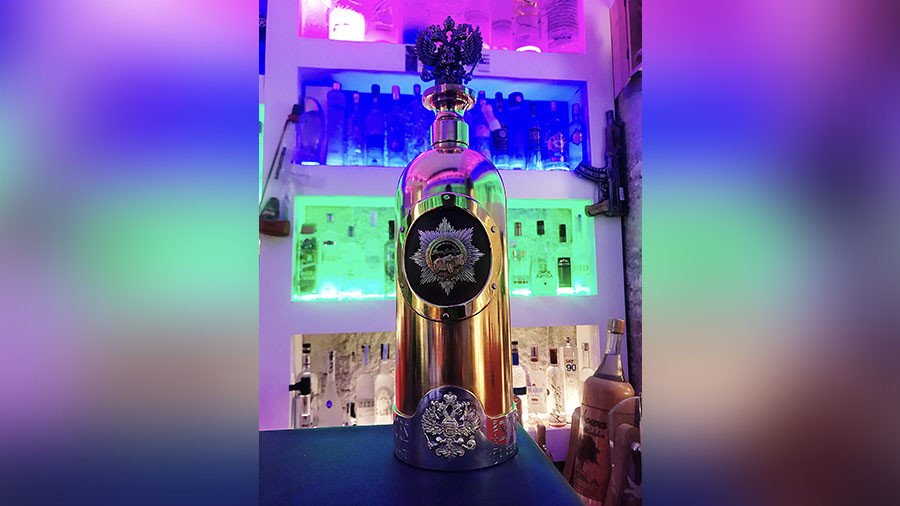 A gold and silver bottle of vodka, purportedly worth about €1.3 million, has been stolen in a late night raid on a bar in Copenhagen.
The Russo Baltique vodka bottle, which once appeared in the Netflix TV series 'House of Cards,' was stolen from Cafe 33 in Vesterbro, Copenhagen Tuesday night.
The bar's owner, Brian Ingberg told RT.com that a man managed to enter the vodka museum section of the building after it had closed.
READ MORE: When only pizza & vodka will do: Lavrov treats tired journos to US-Russian snack after Syria talks
"Out of 1,200 bottles, he took the €1.3 million bottle. He knew what he wanted," Ingberg said.
CCTV images shared on social media by the cafe show the moment the vodka bottle, produced by Russian car manufacturer Russo Baltique and owned by the Dartz Motorz Company, was snatched from its case.
A statement by the bar speculated that someone with a key entered the establishment, before making off with the premium vodka drink.
READ MORE: Heal or kill? Russian vodka might do both
"There is only one bottle in the world… We have a lot more surveillance, which we currently have at the police," the statement read. RT.com has contacted the Danish National Police for comment.

The vodka bottle was on loan from Dartz Motorz Company. It once featured in the US presidential drama 'House of Cards.' The scene saw a fictionalized Russian president and US first lady share a shot of the vodka at a White House dinner party.
You can share this story on social media: