UNSC meeting on Iran directly interferes with Iran's sovereignty – Moscow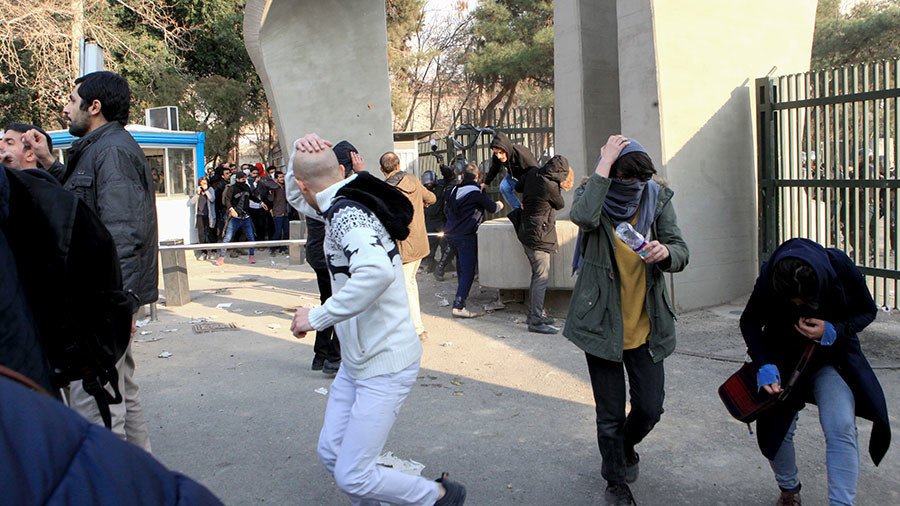 Russia's deputy foreign minister has slammed the US for calling an emergency UN Security Council meeting following instability in Iran, accusing Washington of fomenting unrest and destabilizing the government.
"The United States continues its policy of open and covert interference into the affairs of other states. Under the guise of concern about human rights and democracy, they shamelessly attack the sovereignty of other nations," top diplomat Sergey Ryabkov told Russia's Interfax news agency.
"It is in this light that we see America's initiative to summon a UN Security Council meeting on a strictly internal issue."
Ryabkov said that Tehran's claims that the United States is driving the deadly street demonstrations from abroad were "not unfounded" and added that Washington uses "any means available" to undermine hostile foreign governments.
The US called for Friday afternoon's emergency meeting in New York on Tuesday, although majority support from the 15-member UN Security Council may be required for the discussion to go ahead. No resolution has been put forward.
Ryabkov said that Moscow will "calmly" participate in any discussion but noted that the situation "lay outside of the sphere of competence of the United Nations," whose mission was being "sacrificed for the sake of personal ambitions of certain individuals, who want to grow their personal political capital at the expense of another country's internal difficulties."
In a series of tweets about Iran over the past week, US President Donald Trump has hailed the week-long protests, which have aired a mixture of economic and political grievances against the "corrupt" Iranian government. Trump said the opposition "will see great support from the United States at the appropriate time." He has also used the opportunity to once again attack the "terrible" nuclear deal signed by Barack Obama in 2015.
Ryabkov earlier told RIA news agency that the US is using the demonstrations as a "pretext" to review the terms of the Joint Comprehensive Plan of Action – the international agreement, which was also approved by Russia, China, France, the UK, Germany and the European Union. The deal offers Iran sanctions relief in exchange for restrictions on its nuclear program lasting over a decade. However, the US Vice President Mike Pence has said that the White House is looking to alter its conditions in favor of a longer-term agreement, while Trump has said that he could restore some of the sanctions in response to the recent events in Iran.
You can share this story on social media: