'That leads us to war': US, Israel & Saudi Arabia should tone down Iran rhetoric, says Macron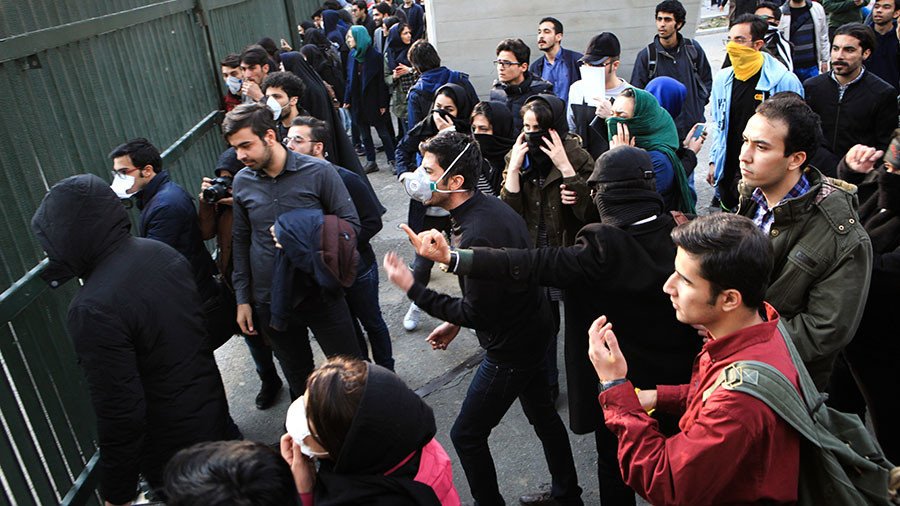 French President Emmanuel Macron has blasted the US, Israel and Saudi Arabia over their hostile statements concerning the ongoing protests in Iran, saying it could lead to a war with the Islamic Republic.
"The official line pursued by the United States, Israel and Saudi Arabia, who are our allies in many ways, is almost one that would lead us to war," Macron told reporters, referring to the statements made by Washington and its allies on Iran. He pointed out that, for some countries, this policy is a "deliberate strategy."
READ MORE: 'US is watching!': Trump warns Iran amid crackdown on protests (VIDEO)
The French president said that it is important to maintain "permanent dialog" with Tehran to keep the balance in relations with the Islamic Republic while seeking ways to "increase international pressure" on Iran. By refusing to speak to Tehran, the US and its allies risk engaging in a "conflict of extreme brutality," he warned, adding, "otherwise, we end up surreptitiously rebuilding an 'axis of evil'."
Speaking about his planned visit to Iran, Macron said he is still determined to travel to the Islamic Republic, but only after the situation there returns to normal and respect for freedoms is restored, apparently referring to the ongoing protests. The French president's comments came after the French Foreign Minister Jean-Yves Le Drian's visit to Iran, scheduled for Friday, was canceled.
Iran has been gripped by a wave of massive protests over the last week. While the Iranian authorities said the situation in most parts of the country has returned to normal, President Donald Trump used the protests to repeatedly demonize Tehran and accused it of human rights violations.
Israel's Prime Minister Benjamin Netanyahu also spewed venom against Iran. In a 90-second-long video he praised the protesters and said after the Iranian government "finally falls, Iranians and Israelis will be great friends once again."
Tehran has repeatedly lashed out at Trump over his comments. Iranian Foreign Ministry spokesman Bahram Ghasemi recently urged Trump to stop "wasting his time on posting useless and insulting tweets about other nations."
Iranian President Hassan Rouhani suggested Monday that Saudi involvement could have played a role in sparking the protests. "They [the Saudis] have blatantly said that we will create problems in Tehran," he said.
You can share this story on social media: